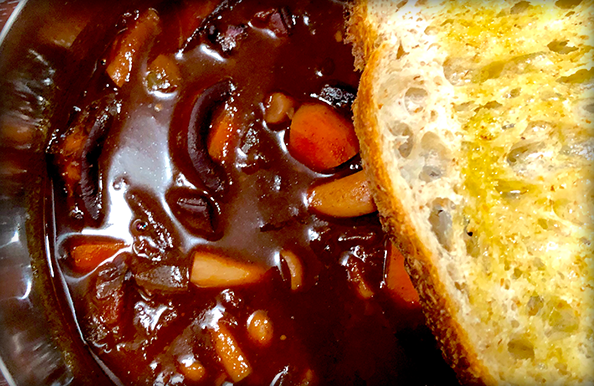 I modified this recipe from one of my culinary heroes, Anthony Bourdain. This stew is featured in his Appetites cookbook and while octopus is hard to come by in the Philippines, squid is quite plentiful. This is a delicious, murky and rich stew that's perfect with some crusty bread or even some pasta. A great family dish for the weekend!
Ingredients (serves 5-6)
1 medium-sized onion, minced
4 cloves garlic, minced
2 tsps cumin powder
1 tsp dried oregano
2 tbsps tomato paste
6 large squid (about 800-900 g), cut into rings
1 cup red wine
1 14 oz can of crushed tomatoes
1 large carrot, cut into small cubes
100 g mushrooms, cut into similar sizes as the carrots
4 tbsps olive oil
salt and pepper to taste
Directions
In a heavy-bottomed pot or Dutch oven, saute onions and garlic in the olive oil until fragrant, about 1 minute. Add in oregano, cumin and tomato paste and cook 1 minute 1 more.
Add in the squid rings and mix well, cooking for 1 minute.
Pour in the red wine and the crushed tomatoes. Season with a touch of salt and bring to a simmer. Let stew for 1 hour.
At the 45 minute mark, add in the carrots and mushrooms.
Season with more salt and pepper if necessary.
Serve with bread or pasta.