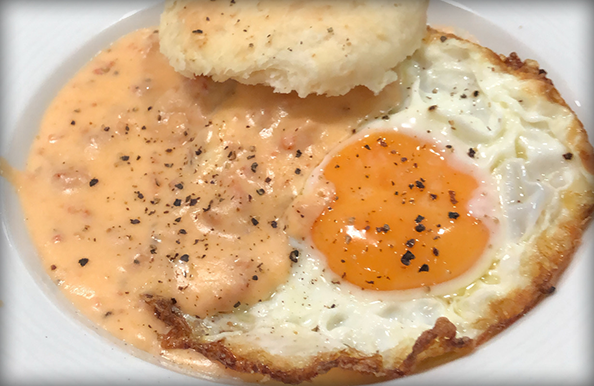 Now, I know that gravy isn't a dish per se, but once you have this, all you need is an American biscuit or English muffin, and maybe a fried egg, and you've got yourself a breakfast or a hangover snack! Plus, this gravy works well as a sauce to grilled chicken as well.
Ingredients (serves 1)
150 g longanisa (any will do but I recommend Vigan), skins removed
1 tsp dried thyme
1 tbsp all purpose flour
300 ml whole milk
salt and pepper to taste
Directions
In a pot, saute the longanisa meat and dried thyme for 2 minutes, breaking up any large chunks.
Sprinkle in the flour and cook for 1 minute, stirring often.
Pour in the milk and stir well. Lower the heat and let simmer until the gravy gets to the thickness you desire.
Season with salt and black pepper.
Serve with fried egg and biscuit or English muffin.