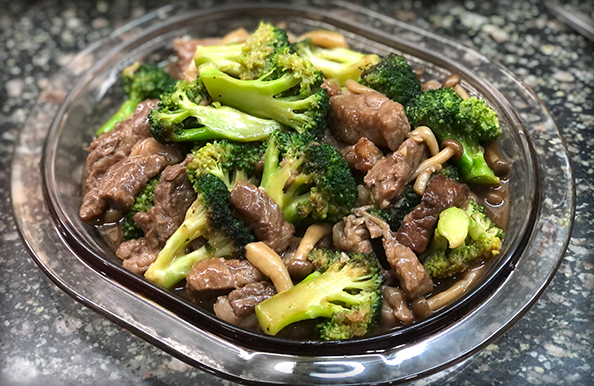 I rarely cook classic recipes because I always want to put my own stamp on them, thereby changing them. This classic, however, doesn't need a whole lot of change, so what else can I do but make it the classic way? This will work with chicken, pork or shrimps as well and brocolli can easily be replaced with cauliflower or even green beans if you'd like.
Ingredients (serves 4)
400 beef (I prefer tenderloin but sirloin will do), sliced into strips
2 tbsps cornstarch
2 tbsps vegetable oil
2 cloves garlic, minced
100 g mushrooms, sliced thinly
2 tbsps oyster sauce
300 g brocolli, cut into little florets
salt and pepper to taste
Directions
In a pot of boiling water, cook the brocolli for 1 minute, then wash in cold water. Set aside.
Season the beef with salt, pepper and cornstarch. Mix well.
In a wok or sauce pan, heat up the oil and stir fry the beef strips for 1 minute. Add in the mushrooms and cook 1 minute more.
Pour in the oyster sauce plus 3 tbsps of water. Simmer for 1 minute.
Add in the brocolli and mix well. Serve immediately with rice or egg noodles.