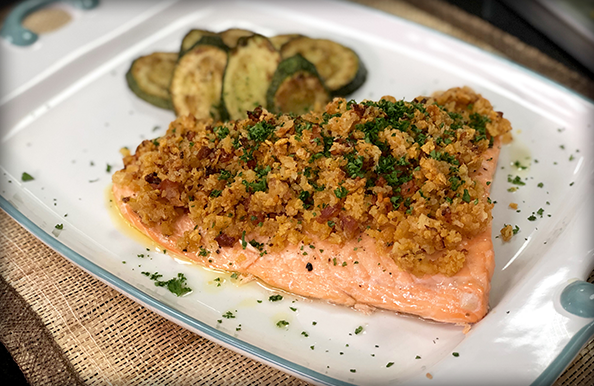 What an honor it was to meet and cook for the great Lani Misalucha. The dish I made for her was a nod to her groundbreaking and successful series of show in Las Vegas. I modified the recipe for clams casino and this breadcrumb topping will go great on everything, from scallops, to clams to even chicken. This will become your go to, I promise.
Ingredients (serves 2 - 3)
800 g whole salmon fillet, skin removed
11/2 cup Japanese breadcrumbs
2 cloves garlic, minced
1/3 cup olive oil
4 slices bacon, chopped
1/4 cup parmesan cheese, grated
2 tbsp unsalted butter
1 large zucchini, sliced into 1/2 inch thick disks
salt and pepper to taste
Directions
Directions:
Pre heat oven to 200 degrees C.

In a saute pan, combine olive oil (set aside 2 tbsps) and bacon. Turn on the heat to low, to allow the bacon to slowly release the oil. Cook for 2 minutes or until bacon is light brown. 

Add in minced garlic and butter and cook until the garlic becomes fragrant. 

Add in the breadcrumbs and cheese and mix well. Season with salt and pepper. 

Season one side of the salmon with salt and pepper.  Place the salmon, seasoned side down on a baking sheet.

Top the salmon with the breadcrumb mixture. Be generous. Bake for 10-12 minutes or until salmon is cooked. 

Meanwhile, sate the zucchini slices in the remaining olive oil. Season with salt and pepper. 

Serve the salmon with the zucchini slices on the side.