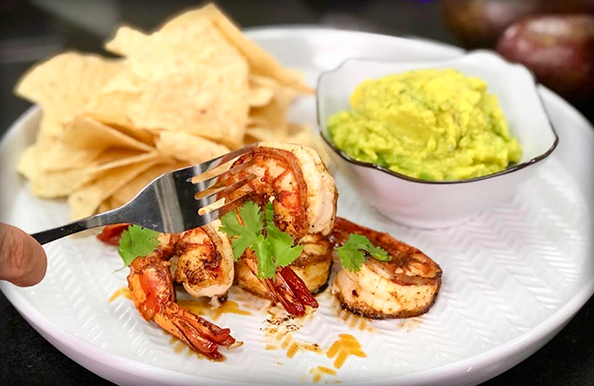 When I started cooking on TV 10 years ago, the one thing I've always wanted to do was to do an episode with Chef Boy Logro as guest. We both pretty much started the same year, but since we were on different networks, it seemed far fetched. I finally got the opportunity to have him come over on Let's Do Lunch, and I wanted to honor his work by making a version of one of the first dishes he cooked when he started his career in the Middle East. Ping! Ping! Ping!
Ingredients (serves 2)
6 to 8 large prawns, shelled and deveined
1 tbsp cumin
1 tbsp chili powder
1 tbsp paprika
2 ripe avocados, skins and pit removed
1 lime or 3 calamansi
1 small bunch of cilantro leaves, chopped
2 cloves garlic, minced
salt and pepper to taste
4 tbsps olive oil
cilantro for garnish
Directions
Directions:
In mortar and pestle, grind together garlic, chopped cilantro, avocados, lime juice (plus grated rind) together with salt and pepper. Leave the mixture chunky.
Pour in 2 tbsps of olive oil. Mix well and chill.
Season the prawns liberally with paprika, cumin, olive oil and chili powder. Let stand for 5 minutes.
Pre heat the grill to high.
Season the prawns with salt and pepper and grill over high heat 2-3 minutes on each side until just cooked.
Serve the prawns with guacamole on the side, with crisp tortilla chips.
Garnish with extra cilantro leaves.