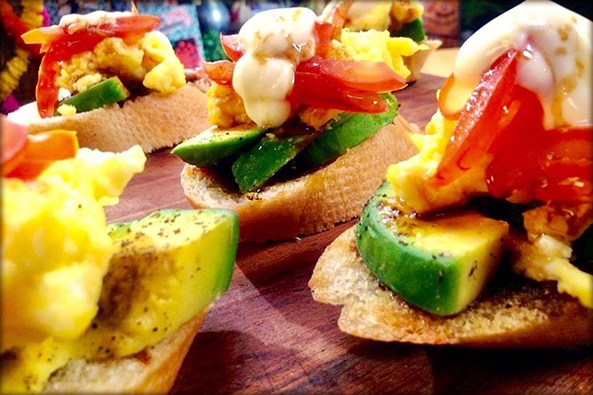 In my visit to Sydney, a couple of breakfasts seemed to be very popular, Avocado Toasts and Vegemite. I figured, why not put them together? Some abhor Vegemite but I have grown to understand its appeal and in this recipe, its saltiness plays well and gives depth to the dressing. If you can't find Vegemite or are too afraid to use it, soy sauce good be used to replace it. But try the recipe as is if you can!
Ingredients (serves 4)
8 slices french baguette
1/2 cup extra virgin olive oil
1 ripe avocado
1 calamansi
2 tbsps sour cream
1 tbsp vegemite
3 tbsps balsamic vinegar
6 large eggs
2 tomatoes, sliced thinly
Directions
Brush the baguette with olive oil and toast until crisp.

Slice the avocado meat and season with salt, pepper and calamansi juice.

In a pan, scramble the eggs, keeping the eggs fluffy and moist.

In a bowl, combine the vegemite, balsamic and the remaining olive oil.

Assemble the toast by spreading some avocado, topping it with the egg and tomatoes.

Drizzle the sour cream and the vegemite dressing.