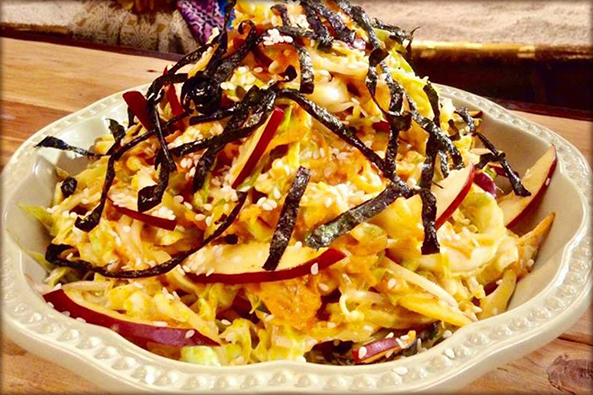 While learning of the ins and outs of "Aussie Barbie," I was informed (on more than one occasion) that the side dishes of any BBQ feast is just as important as the main dishes. Here's one side dish that will do the trick. There's lots of crunch and bold flavors as well so it won't take a backseat to the main dishes. It will enhance them.
Ingredients (serves 4)
1 head green cabbage, sliced thinly
1 large carrot, grated
2 cups beansprouts, washed and cleaned
4 stalks green onions, minced
1 apple, peeled and cut into strips
1 tbsp sesame seeds
2 sheets of nori, cut into strips
1/2 cup Japanese mayo
1 cup sour cream
2 tbsps gochujang
1 tsp sesame oil
black pepper to taste
Directions
In a bowl, combine mayo, sour cream, gochujang and sesame oil.  Mix well.

Add in the cabbage, carrots, beansprouts, apple and green onions.

Top the slaw with nori strips and sesame seeds.  Serve cold.