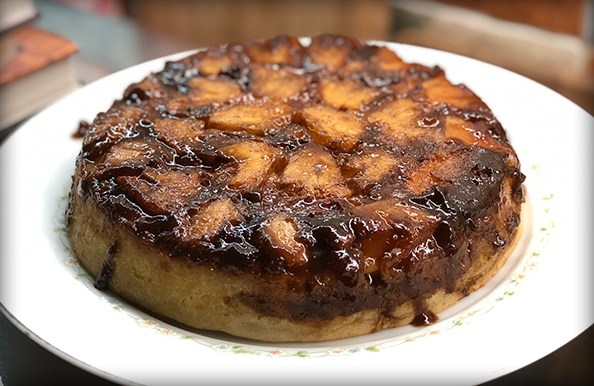 Being on lockdown had me craving for pineapple upside cake, so I took some notes from Alton Brown's peach version to come up with this dessert that even amateur bakers can manage. The best part is it doesn't have to be just pineapples; it can be whatever fruits you can find so you can stay home.
Ingredients (serves 6-8)
1/3 cup muscovado sugar
3 tbsps unsalted butter
250 - 300 g pineapple slices or chunks
5 oz all purpose flour
2 tsps baking powder
1/4 tsp baking soda
1/4 tsp salt
2/3 cup white sugar
1 cup buttermilk (milk will do just fine)
Directions
In a cast iron or oven proof pan (around 8 inches diameter), melt together butter and muscovado until a dark brown caramel is formed. Shut off the heat.
Arrange pineapple slices in a decorative manner.
In one bowl, combine baking powder, flour, baking soda and salt.
In another bowl, combine buttermilk and sugar. Pour this mixture onto the flour mixture. Mix well.
Pour batter onto the pineapples and bake in a 350 F oven for 30-35 minutes or until the cake is fully cooked in the center.
Let the cake and the pan cool for at least 30 minutes before turning it over onto a plate.