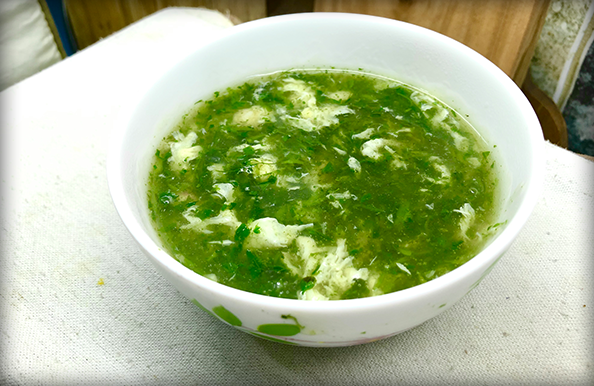 Another one of my favorite Chinese soups, I made this version meatless but you can easily add in seafood or chicken to make it a heartier dish. If you overcook the kang kong or spinach, the color won't be as nice, but it will still taste good, so no worries!
Ingredients (serves 4)
3 large handfuls of kang kong or spinach leaves
1 L vegetable or chicken stock
200 g silken tofu, sliced into thin strips
3 tbsps corn starch mixed with 5 tbsps water
4 eggs, beaten
salt and pepper to taste
Directions
Cook the greens in boiling water for 45 seconds and dunk in ice water immediately.
Using a food processor, blend the greens. You may add a touch of water to help the process along. You may also chop it by hand.
Bring the stock to a boil and season with salt and pepper.
Slowly add in the corn starch mixture while stirring the soup. Add enough until the soup reaches desired thickness.
Add in the tofu and simmer for 2 minutes.
Add in the beaten eggs in a steady stream while stirring. Simmer for 2 minutes.
Shut off the heat and add in the chopped greens. Serve immediately.