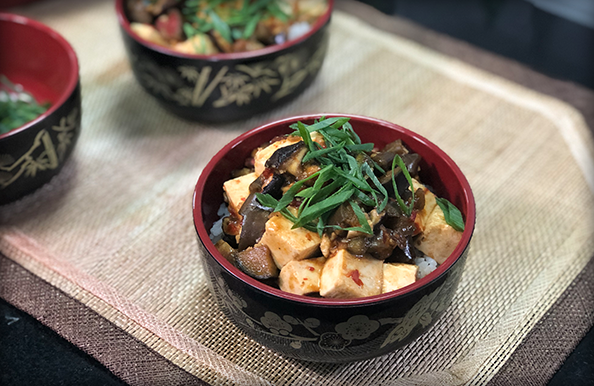 When I was asked to do a "Meatless Monday" dish on Suzy Abrera's show, Mars, it got me thinking about making another one when she came over to guest in my show. I make a lot of jokes about vegetarian dishes, but as long as there's lots of flavor, I'm going to enjoy vegetarian dishes. Go ahead and sub in any of your favorite vegetables in season. If you can't find spicy bean paste, the Korean gochujang is good and also bottled chili and garlic sauce.
Ingredients (serves 2)
2 blocks medium hard Japanese tofu, cut into large cubes
2 eggplants, cut into small cubes
6 shitake mushrooms, cut into small cubes
2 cloves garlic, minced
1 small onion, minced
2 tbsps spicy bean paste (do bin jiang)
sugar to taste
2 tbsps cooking oil
2 tsps sesame oil
salt and pepper to taste
Directions
In a sauce pan, saute the mushrooms and eggplant in the oil for 2 minutes.
Add in the onions and garlic and cook until fragrant, 1-2 minutes.
Add in the spicy bean paste, sugar and water. Mix well and let simmer for 3-4 minutes.
Season with salt and pepper. Add in the tofu and mix gently so as not to break the tofu.
Shut off the heat and season with sesame oil. Serve very hot over rice.