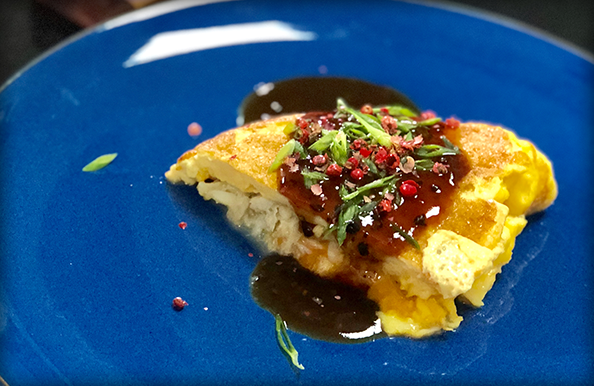 I was lucky to get some inside information on what Rhian Ramos' favorite ingredients were, so I knew I had a good chance she would like this dish. Turns out, I was right! Crab is the best for this dish, but of course, you are welcome to replace that fish, chicken or even beef. Same goes with the cheese as well.
Ingredients (serves 2)
For the omelette:
150 g crabmeat, cooked
100 g cheddar cheese, grated
5 large eggs
4-6 leaves fresh basil
salt and pepper to taste
2 tbsps olive oil
For the sauce:
2 tsps black peppercorns, crushed
1 tbsp pink peppercorns, crushed
2 tbsps soy sauce
1 tbsp sugar
1 cup of chicken stock or water
1 tbsp corn starch mixed with 1 tablespoon water
1 stalk leek, sliced thinly for garnish
Directions
To make the sauce, combine 1 cup of chicken stock, sugar, soy sauce and crushed black peppersorns in a pot and bring to a boil. Simmer for 5 minutes.
Add in the cornstarch water mixture slowly, while constantly mixing. Add enough to thicken the sauce until it reaches a sauce like consistency. Set aside sauce and keep warm.
In a mixing bowl, season the eggs with salt and pepper and beat well for about 3 minutes.
Wipe a non stick pan with olive oil and put on medium low heat. Pour in the eggs.
Keep mixing the eggs with a rubber spatula to make the eggs fluffy. Once the eggs slightly cooks, add in crabmeat, cheese and basil leaves.
Lift half of the omelette and cover the filling. Place on a chopping board. Cut the omelette in half and serve on plates. Pour the sauce on top and garnish with pink peppercorns and leeks.