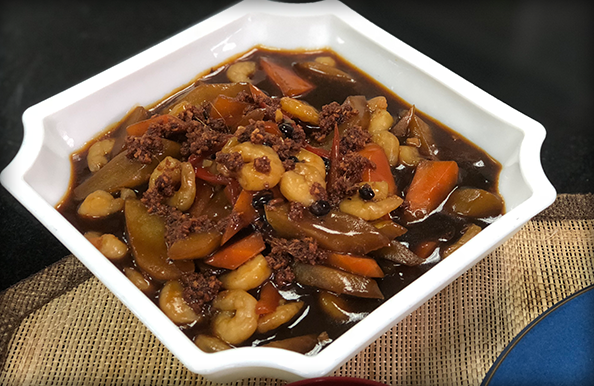 I wanted to cook something that I knew Ken Chan would love so much that he'd cook it for his family, which he does regularly. I thought tapping into our Chinese heritage would make his dad happy. I think it did the trick. As usual, you can replace the shrimps with any protein and feel free to substitute the vegetables as well.
Ingredients (serves 2)
200 g shrimps, peeled
1 chayote (sayote), sliced thinly
1 carrot, sliced thinly
1/4 cup soy sauce
2 cloves garlic, minced
1/4 cup orange juice concentrate
2 tbsps fermented black beans (tausi)
1/4 cup water
1 tbsp cornstarch mixed with 1 tbsp water
2 tbsps cooking oil
salt and pepper
fried tauso or onions for garnish (optional)
Directions
In a saute pan, cook the carrots and chayote in the cooking oil. Stir fry for 2 minutes. Add in the garlic and cook 1 minute more.
Add in the black beans, orange juice concentrate, water and soy sauce. Simmer for 2 minutes or until vegetables are almost fully cooked.
Add in shrimps and stir well.
After 1 minute, add in cornstarch and water mixture while mixing constantly. Shut off the heat once the sauce has thickened.
Serve over rice.