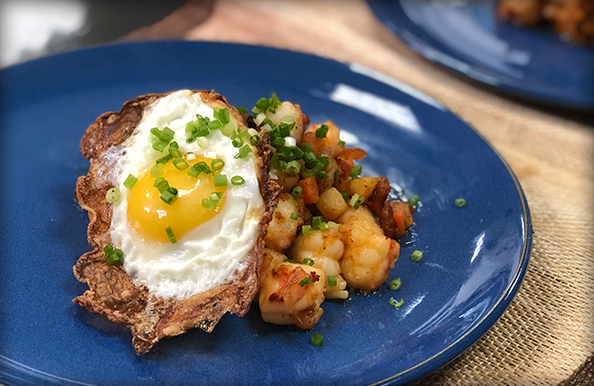 The answer to the question, "What do you cook for the maestro of Philippine music, Ryan Cayabyab," turned out to be a simple one. A lover of simple things, Mr. Cayabyab was impressed with my take on a simple American favorite, the hash. I used prawns to make the dish more luxurious, but any protein like chicken, fish or even leftover roast beef would make for great replacements.
Ingredients (serves 2-3)
2 sweet potatoes, cubed
1 large carrot, cubed
4 large prawns, shelled and cut into large chunks
3 strips honeycured or maple bacon
1 tbsp honey
1 tsp chili flakes
1 clove garlic, minced
2 large eggs
4 tbsps olive oil
salt and pepper to taste
Directions
In a pan, heat up the oil until it reaches its smoking point.
Fry the eggs one a time, cooking each for 2-3 minutes until the sides are crisp and the yolk still runny. Set aside.
In a small pot of water, cook the carrots and sweet potatoes for 2 minutes. Drain.
In the pan used to fry eggs, saute the bacon over medium heat for 2 minutes. Add in the prawns and cook for 2 minutes.
Add in the carrots, potatoes and garlic, seasoning everything with salt and pepper. Cook for another 2 minutes.
Add in the honey and the chili flakes and mix well. Serve immediately.