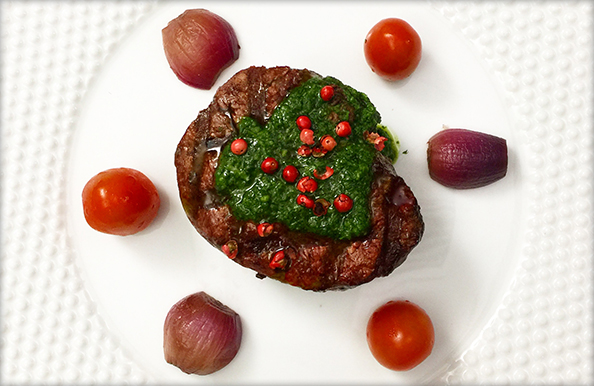 I discovered chimichurri late in the game, but I love how the sauce is the perfect complement to steaks if you're tired of the thick and creamy brown sauces. Malunggay adds not only nutrition but a slight herby bitterness that makes the beef taste sweeter. You can also replace the different herbs and get different flavors each time. Remember to cook the steaks medium rare to medium!
Ingredients (serves 2)
2 beef tenderloin fillets, 200 g each
1 cup flat leaf parsley leaves
1/4 cup malunggay leaves
1/4 cup thyme leaves
2 cloves garlic, minced
2 tbsps parmesan cheese, grated
1/2 cup extra virgin olive oil
1 lemon
salt and pepper to taste
Directions
In a blender, combine parsley, malunggay, thyme, garlic and parmesan cheese.
Turn the blender on and while drizzling olive oil to form a paste.
Add in the juice of one lemon and season with salt and pepper.
Grill the steaks over a high heat grill, about 2 minutes on each side.
Slather the steaks with the sauce and serve.