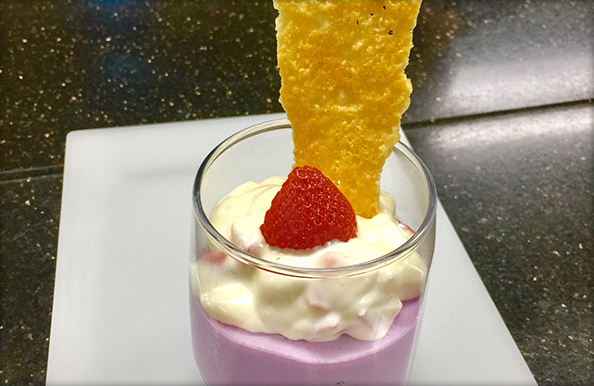 If you're not a dessert maven (I am not either) this recipe is a great one to do. The gelatin allows you to make sure your mousse is set well and the ube gives a lovely color and sweetness, giving you a chance to use less sugar. You can replace the ube with orange sweet potato or squash too. Remove the ube altogether and make a plain bavarois too!
Ingredients (serves 2)
250 g fresh ube, grated
250 ml milk
250 ml cream
25 g sugar
20 g powdered gelatin
250 ml plain yoghurt
6-8 strawberries
Directions
In a mixing bowl, combine 125 ml of cream, sugar and the powdered gelatin.
In a sauce pot, pour in the ube, milk and remaining cream. Simmer until ube is cooked, about 2 minutes.
Blend the milk and ube mixture and pour into the gelatin mixture. Mix well.
Pour into serving containers and let chill for at least 4 hours.
Slice the strawberries into bite sized pieces and mix into the yoghurt.
Top each bavarois with the yoghurt mixture.