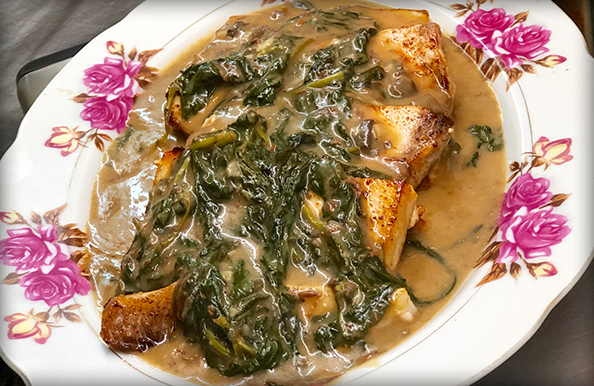 Sometimes, some dishes are borne out of what you can get during a quarantine. This is how this dish was created, and I have to say, I love the versatility of this dish. You can sub the marlin with any meaty fish or even pork or chicken. Kang Kong leaves can be replaced with any leafy green, and the cream can be replaced with canned cream soup. Hardly any excuse not make this dish!
Ingredients (serves 2)
400 g blue marlin fillets
2 bunches kang kong, washed and hard stems removed
1 cup whipping cream
4 cloves garlic, minced
2 tbsps bagoong (shrimp paste)
4 tbsps vegetable oil
Directions
In a sauce pan, saute the kang kong and garlic in 2 tbsps of oil for 2-3 minutes or until the leaves are wilted.
Add in the bagoong and saute for 1 minute more.
Pour in the cream. You may add 1/2 cup of water if it's too thick. Let the sauce simmer gently for 5 minutes.
In another pan, sear the the marlin fillets in the remaining oil, browning both sides, about 2 minutes on each side (if 1 inch thick).
Serve the marlin fillets with the sauce poured on top.