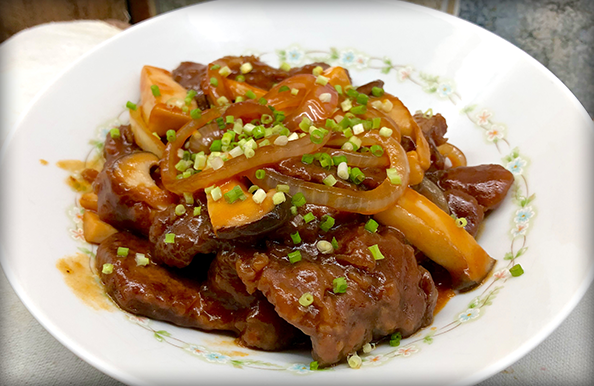 In my opinion, this dish isn't really Chinese; it's more Chinese Filipino or Chinese American, but it is definitely delicious! You can substitute the beef with pork or even chicken or fish fillet, so the possibilities are endless.
Ingredients (serves 4)
600 g beef tenderloin
1/2 cup cornstarch
2 white onions, sliced into rings
200 g button or shitake mushrooms, sliced thinly
1/3 cup shaoxing wine (or any rice wine)
2 tbsps worcestershire sauce
250 ml tomato sauce
600 ml vegetable oil (for frying)
salt, sugar and white pepper to taste
Directions
Using a mallet or wine bottle, pound the beef thin. Slice the thin beef into bite sized pieces.
Season the beef with salt, pepper and the cornstarch. Mix well.
In a wok, fry the beef pieces in the oil until crisp. Set beef aside. Remove the oil, leaving 2-3 tbsps in the wok.
Saute the onions and mushrooms in the wok over medium heat for 5 minutes.
Add in the tomato sauce, shaoxing wine and worcestershire sauce. Season with sugar to taste. Let simmer for 3 minutes.
Add in the beef pieces and simmer until the sauce thickens and coats the beef pieces.
Serve with rice or noodles.