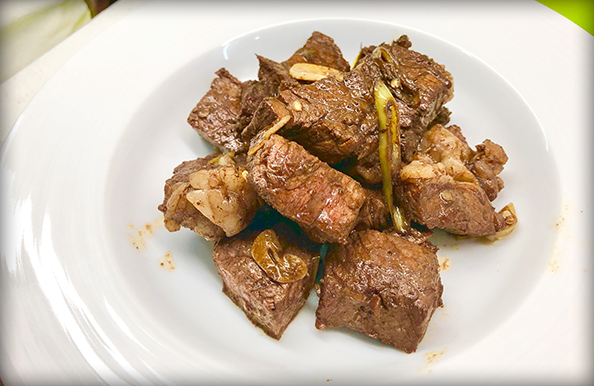 Every Filipino family probably has their own version of salpicao, so I never really thought about sharing mine. I have gotten some requests though, so I felt it was time to share our family's version here.
Ingredients (serves 4)
600 g beef tenderloin or ribeye steaks
1 whole head garlic, peeled with cloves left whole
4 green finger chilies, sliced thinly
1 tbsp Spanish paprika
1/3 cup worcestershire sauce
4 tbsps olive oil
salt and pepper to taste
Directions
Slice the whole garlic cloves thinly
Season the steaks with salt, pepper and paprika.
In a pan, sear the steaks in olive oil, leaving the middle rare. Remove and let rest.
Over very low heat, saute the garlic and chilies in the same pan for 2 minutes.
Slice the steak into cubes and then add to the garlic and chilies. Saute for an additional 1 minute.
Add in the worcestershire sauce and let simmer for 1 minute, mixing constantly.
Serve hot on top of white rice.