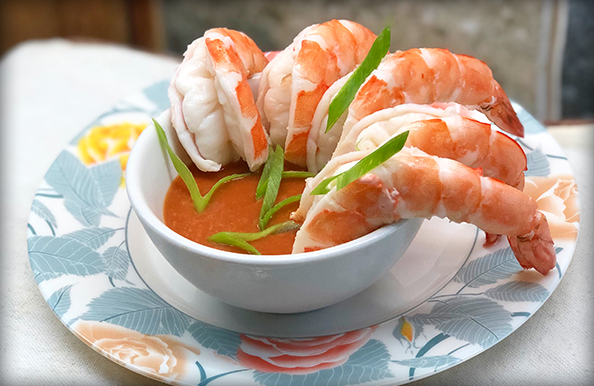 Is there a dish that you love that not a lot of people do? For me, it's cold seafood with cocktail sauce. It's something I always have to have whenever I see it. Here's a quick version you can make at home. The cocktail sauce isn't just good on seafood though. It's perfect with a burger as well!
Ingredients (serves 2)
8-10 shrimps with the skin and head on
1/2 cup tomato catsup
1 tbsp horseradish
2 tsps calamansi juice
2 tbsps sriracha or hot sauce
Directions
Steam the shrimps for 7-8 minutes or until just cooked. Drop into ice water to completely stop the cooking process.
In a bowl, whisk together the remaining ingredients. You may adjust the flavors by adding more of any ingredient.
Once completely cold, peel the shrimps, leaving the tails on.
Make a slight incision on the back of each shrimp to remove the black vein.
Serve the shrimps with the cocktail sauce cold.