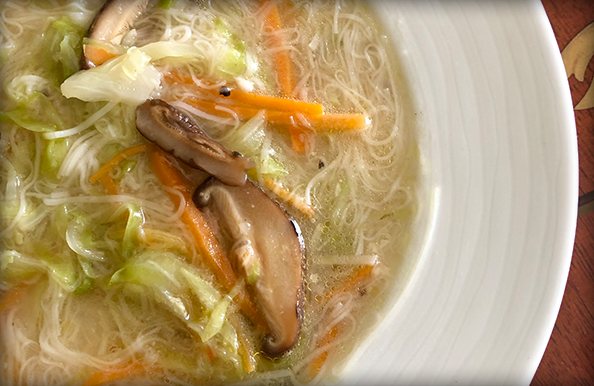 Misua (Chinese angel hair flour pasta) has always been a huge part of Chinese Filipino culture. It's enjoyed on birthdays and even for the nlunar new year, but its flavors are always based on chicken or pork broth. I thought it would be a welcome change to make it vegetarian but still tremendously flavorful as well.
Ingredients (serves )
1 small carrot, sliced into thin matchsticks
1/2 small head of cabbage, sliced thinly
6 dried shitake mushrooms, rehydrated in 1 cup water, sliced thinly
1 sheet dried kombu (half sheet of pad paper size)
11/2 L water
1 tbsp miso paste
2 tsps onion, minced
2 tsps garlic, minced
1/2 stick of misua (around 1 cup)
2 tbsps vegetable oil
salt and pepper to taste
Directions
In a pot, combine water and dried kombu sheet. Bring to a boil for 1 minute and then shut off the heat. Discard the kombu sheet.
In another pot, saute the garlic and onions in the vegetable oil for 1 minute or until fragrant.
Add in the carrots, cabbage and the mushrooms. Season with salt and pepper and saute for 2 minutes.
Dissolve the miso paste in the 1 cup of water used to rehydrate the mushrooms. Pour this onto the vegetables.
Pour the kombu broth onto the vegetables and simmer for 3 minutes.
Add in the misua. Stir and let simmer for 2 minutes.
Check for seasoning in case it needs more salt and pepper. Serve immediately.