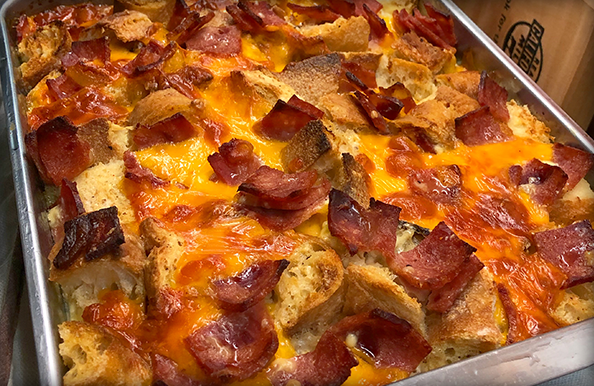 Bread pudding is the ultimate dessert that helps clean up all the leftovers at home, so I thought, it could be the ultimate savory dish to do that as well. I used leftover ham plus bread slices that were rock hard, but it still worked. This is why I love this recipe!
Ingredients (serves 4)
125 ml cream
375 ml whole milk
2 egg yolks
1 whole egg
pinch of nutmeg
4 cups of old bread, cut into cubes
200 g of cheddar cheese, cut into cubes
200 g ham, chopped
salt and pepper to taste
Directions
In a bowl, combine cream, milk, egg yolks and egg and mix together. Season with salt, pepper and nutmeg.
Add in bread cubes and let soak for 1 hour.
Add in ham and cheese and place mixture into a baking pan.
Bake in a 425 degree F oven for 45 minutes.