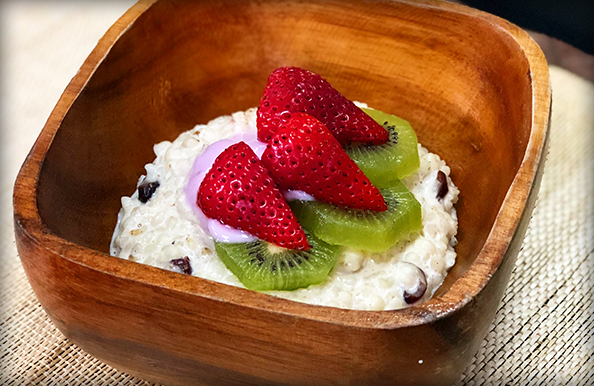 Cooking for Bianca Umali, an unabashed Neil Gaiman fan, I decided to create a rice pudding recipe for her, as it was mentioned in her favorite book, Stardust. I used adlai in this recipe since it's local and low in sugar, but cooked rice would work just as well. Of course, I recommend using the freshest fruit in season.
Ingredients (serves 2 - 3)
2 cups adlai or rice cooked
21/2 cups whole milk
1 cup cream
50 g sugar1 tsp nutmeg
2 tsps cinammon
1/2 cup dried cranberries or raisins
125 ml berry yoghurt
2-3 strawberries, sliced thinly
1 kiwi, sliced thinly
Directions
In a pot, combine cooked adlai or rice with milk, sugar, cinammon and nutmeg.
Simmer for 5-6 minutes, stirring occasionally.
Add in dried cranberries and cook for 1 more minute while stirring.
Shut off the heat and pour in the cream. Mix well.
Serve the pudding in bowls, topped with berry yoghurt and fruit slices.