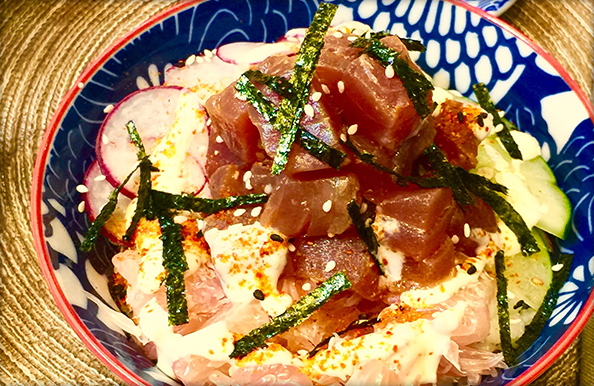 I wanted to make my own take on Poke, and I wanted to make sure that my hometown, Davao, would be well represented, so I made sure to add touches of flavors that remind me of my times there. You can choose to replace the tuna with salmon or malasugue. Meanwhile, if pomelo is hard to find, other fruits like oranges or even mangoes could be used.
Ingredients (serves 2)
300 g sashimi-grade tuna, cut into small cubes
1/4 cup pomelo juice
4 calamansi
1/4 cup soy sauce
2 tsps wasabi
2 cups cooked Japanese rice
4 segments of pomelo
1/4 cucumber, sliced thinly
2 red radishes, sliced thinly
1 tbsp sesame seeds
2 tbsps sour cream
1 nori sheet, cut into thin strips (optional)
Directions
In a bowl, combine pomelo juice, calamansi juice, soy sauce and wasabi. Marinate the tuna in the sauce for a few minutes in the ref.
Arrange the rice into 2 bowls. Artfully arrange the cucumber and radish slices on top of the rice.
Place the marinated tuna cubes over the rice. Garnish with pomelo segments, sour cream, sesame seeds and nori.