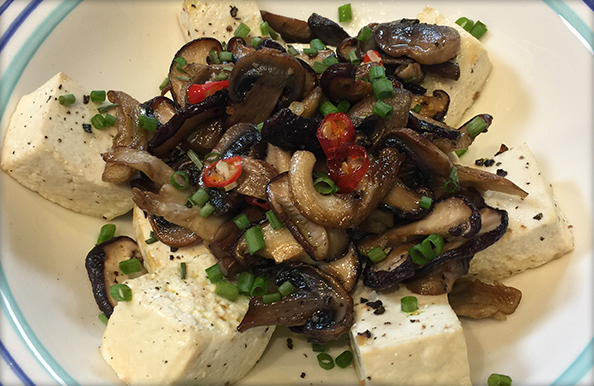 This is a great dish when you want to go meatless on a Monday (or whatever day you like) since tofu provides you the protein and the mushrooms give you a meaty texture. Feel free to change up the mushrooms, using whichever mushroom you like more. Firm tofu is best with this recipe.
Ingredients (serves 4)
4 large pieces of hard tofu, cut into 2 X 4 pieces
6 fresh shitake mushrooms, chopped
12 button mushrooms, chopped
12 oyster mushrooms, chopped
2 cloves garlic, chopped
1/4 cup olive oil
4 siling labuyo, chopped
1 thumb sized pc of ginger, peeled and chopped
green onions, chopped for garnish
Directions
In a small pot, combine olive oil, ginger and labuyo and heat them up until the oil bubbles. Let steep.
In a sauce pan, pour in 2 tbsps of the chili oil and saute all the mushrooms for 2 to 3 minutes. Add in garlic and cook until fragrant.
Add in the pieces of tofu to the mushroom mixture. Cover and let steam for 2-3 minutes.
Serve the tofu with the mushrooms on top and some chopped green onions.