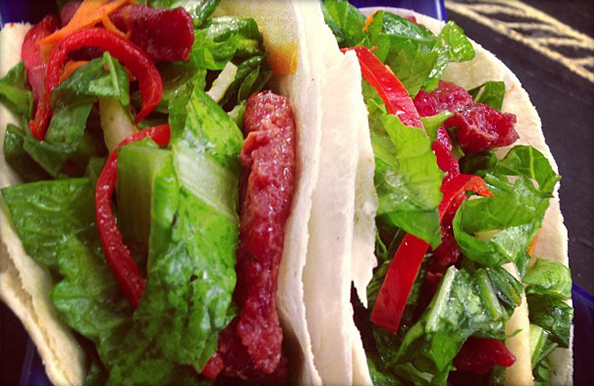 I always like to balance bitter flavors with sweet, and I love mustard leaves or mustasa. Pairing them off with a tocino in a taco is a perfect summertime bite and snack. Lettuce, arugula, or even watercress can be used as substitute, but give the mustard leaves a try. They are awesome. As for the tocino, ham or bacon can be substituted, but again, tocino is so much better.
Ingredients (serves 2-4)
200 g pork tocino
2 cups mustasa leaves (mustard leaves), washed and cut into ribbons
¼ cup carrots, grated
¼ cup singkamas (jicama), julienned
1 red pepper, julienned
2 calamansi
4 flour tortillas
4 tbsps olive oil
salt, hot sauce and pepper
Directions
Using a cookie cutter, cut the tortillas into small circles, about 4 pieces per tortilla sheet. Wrap in an aluminum foil and keep warm in the oven.
In a saute pan, fry tocino strips in 2 tbsps olive oil until cooked. Set aside.
In a bowl, combine, mustasa, carrots, singkamas and red pepper. Season with salt and pepper, calamnsi juice and 2 tbsps olive oil.
Assemble the tacos with some tocino strips and the mustasa salad. Serve with hot sauce.