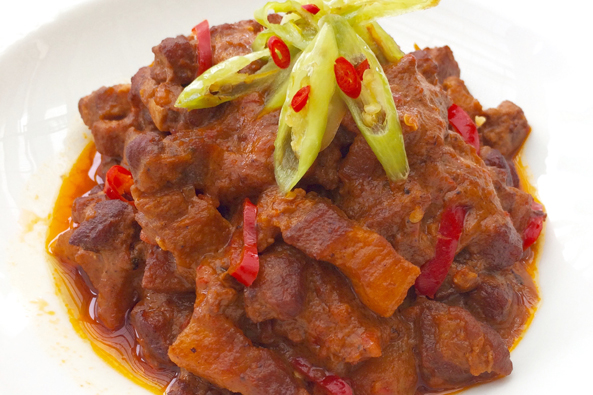 I've always loved spicy food, so it was natural for me to make my own version of Bicol Express. The one thing I picked up from Bicol locals is that in this dish, chilis are more important thatn the pork, so I use the chilis in 2 ways here. Of course, you can lessen the amount of chilis depending on your tolerance for spicy dishes. This would work well with chicken or even beef if you prefer.
Ingredients (serves 4)
600 g pork belly, cut into bite sized pieces
6 pieces green finger chillies (siling mahaba), sliced thinly at a bias
2 cloves garlic, minced
2 sibuyas tagalog, minced
2 tbsps tomato paste
1 large red bell pepper, chopped
4 tbsps vegetable oil
1 cup coconut milk
Water as needed
Salt and pepper to taste
Directions
In a pan, sear the pork bellies on each side in the vegetable oil until golden. Add in the garlic, onions, red pepper and half of the chilies. Cook for 2 minutes.
Add in the tomato paste and cook for 2 minutes.
Add in water to cover the pork and the vegetables. Simmer until pork is tender, about 20 minutes.
In another sauce pan, saute the remaining chilies for 2 minutes and season with salt and pepper.
Remove the pork from the sauce and place directly on the serving platter. Place the sauce and vegetables into a blender and blend it together with the coconut milk.
Pour the sauce over the pork and garnish with the sautéed chilies.