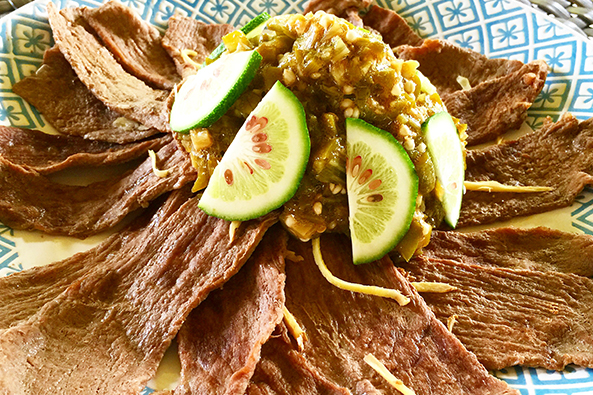 Inspired by a visit to a restaurant that specialized in wagyu beef, I realized that steaming thin, fatty slices of beef gave it a taste and texture unlike the one you get when you sear it. I not only cooked this for the show, I also cooked this for actress Bea Alonzo when I realized she loved okra. I realize that most people fear okra's sliminess but it's this texture that lends itself well as a sauce for the delicate beef. Try it! Pork or chicken can easily replace beef if you wish.
Ingredients (serves 4)
600 g beef sirloin or rib eye, thinly sliced or sukiyaki cut
2 tbsps ginger, minced
4 cloves garlic, minced
8 pcs okra
4 tbsps soy sauce
3 calamansi or 2 limes
salt and pepper to taste
Directions
1. Marinate the beef with 2 tbsps soy sauce, 1 calamansi (or half a lime) and pepper and line up the beef on the steamer basket. Top with ginger and garlic. Let stand for at least five minutes.
2. Blanche the okra in boiling water for 2-3 minutes until tender but still bright green. Place the okra in ice water.
3. Steam the beef for 2-3 minutes or until fully cooked.
4. Chop up the okra until fine. Season with soy sauce and lime juice.
5. Serve the pork with the okra relish on top.