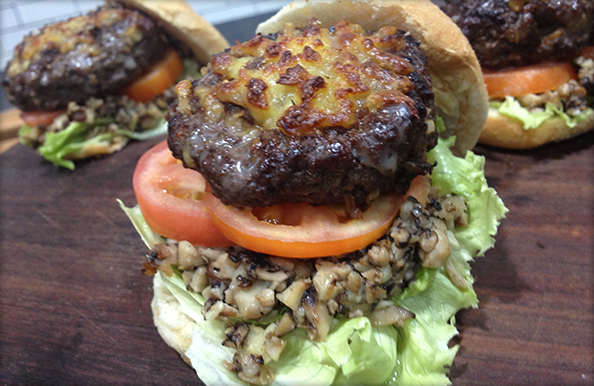 A good burger will always be a good burger, so here's another burger recipe. This time, with the added umami flavor from mushrooms. I indicate using short plate or short ribs and ground round, but of course the meat cuts and its ratio is up to you. You can also replace the shitakes with other kinds of mushrooms or use a variety of mushrooms as well.
Ingredients (serves 6)
For the Duxelle:
8 -10 large shitake mushrooms, minced
1 sprig rosemary, leaves only
2 sprigs thyme, leaves only
2 cloves garlic, minced
2 tbsps olive oil
salt and pepper to taste
For the Sliders:
200 g ground short plate or short ribs
400 g ground round
1 onion, peeled and grated
2 cloves garlic, minced
1/4 cup oyster sauce
12 small pan de sal
3 tomatoes, sliced into rounds
1 head iceberg lettuce, chopped into shreds
100 g cheddar cheese, grated
4 tbsps olive oil
salt and black pepper to taste
Directions
Saute minced shitake mushrooms and 2 cloves minced garlic in 2 tbsps of oil. Season with salt, pepper, 2 sprigs thyme and rosemary. Cook for 7 to 8 minutes. Set aside.
Combine ground beef, grated onion (and its juices), 2 cloves of minced garlic, oyster sauce, salt and pepper. Mix well and test the flavor by frying a small piece.
Shape the burgers into balls slightly larger than golf balls (about 50 grams) and flatten to form patties.
Cook burgers on a saute pan, for two minutes on 1 side at first. Flip over and top with grated cheese. Cook for another 2 minutes.
Slice pan de sal length-wise in half. Season with salt, pepper and 2 tbsp of olive oil. Toast in the oven until brown.
Assemble each slider by placing a burger patty, a slice of tomato, a handful of shredded lettuce and a spoonful of the mushroom in between 2 slices of toasted pan de sal.