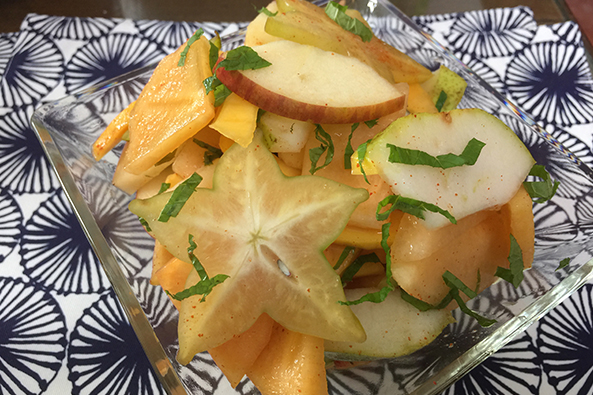 Adding spice to fruits is a South East Asian signature, and I believe it would work well with our Filipino fruits as well. Obviously the best fruits to use are those in season, but make sure to get multiple tastes and textures. Have at least a sweet and a sour fruit, a crunchy and a soft one.
Ingredients (serves 2)
3 cups fresh fruits like green mango, apples, pears, melons etc chopped
2 lemons or limes
8 leaves basil, sliced into ribbons
1 tbsp sugar
1 tbsp chili flakes or powder
salt and pepper to taste
Directions
Juice the lemons and combine it with sugar, salt, chili flakes.  

Toss the fruits in the dressing.  Add in the basil ribbons.

Season the salad with seas salt and black pepper.