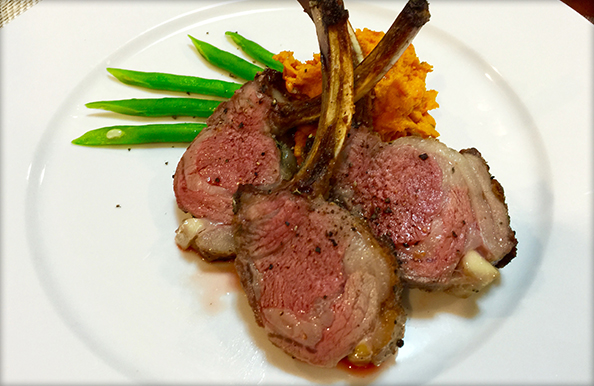 I first picked up the concept of a hummus type of dish using carrots from Chef Todd English, when he cooked a private lunch for some of us when he first opened his restaurant in Manila. Since then, I've been tinkering with that concept and it's a great alternative for people who love the texture of hummus with cannot have too much legumes. The lamb is perfect complemented by the hummus but even a great beef or chicken entree would work well here.
Ingredients (serves 2)
1 rack of lamb
1 tbsp Dijon mustard
4 cloves garlic, peeled
2 large carrots, peeled
1 tsp sesame oil
1 tsp cayenne pepper
½ cup creamy yoghurt
Salt and pepper to taste
4 tbsps olive oil
Green onions, minced for garnish
Directions
Slice the carrots into small pieces. Season with salt, pepper and 2 tbsps olive oil. Roast together with the garlic in 200 degree C oven until very soft.
Clean the rack of lamb using the chef's knife, removing the back fat. Season with salt and pepper.
In a hot pan with 2 tbsps of olive oil, sear lamb until golden brown. Spread mustard on it and bake in the oven for 12-15 minutes.
In a blender or food mill, blend the carrots, garlic, yoghurt, cayenne pepper and sesame oil.
Slice the rack into serving sizes with the hummus underneath or on the side.