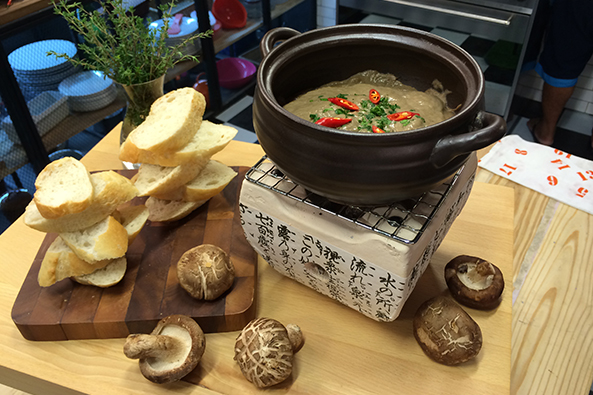 In Cebu, I tasted the Tuslob Buwa, a local delicacy of Pasil. It's pork brains and pork stock cooked almost like a dip. Locals buy puso (sticky rice) and dip into the tuslob buwa, almost like a fondue. It was a lovely rich flavored dip and also a great dish for a party amongst friends or colleagues. Not everyone is into pork brains, so this is my sort of vegetarian version. You can remove the bagoong if you want to make in vegan.
Ingredients (serves 4-6)
200 g button mushrooms
200 g fresh shitake mushrooms
50 g dried shitake mushrooms
2 cloves garlic, minced
1 tsp bagoong
1 tsp thyme
500 ml vegetable stock or water
1 baguette, sliced thinly and toasted until crisp
2 tbsps olive oil
Parsley for garnish
Salt and pepper
Directions
Warm up the stock or water and rehydrate the dried mushrooms.  Slice the mushrooms thinly once soft.

Slice the fresh mushrooms thinly.  In a pan, saute the mushrooms in the olive oil and garlic.

Add in the thyme and toast until fragrant.  Pour in the stock and rehydrated mushrooms and simmer for 20 minutes.

Blend the mushrooms. You may leave it smooth or chunky.

Serve the mushrooms in a fondue pan over low flame with the baguette slices.  Garnish with parsley.