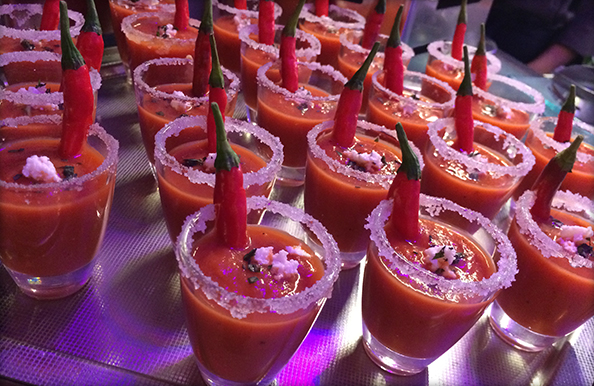 I love making this dish whenever I cook for cocktail parties and buffets. The strong spicy flavors really open up the palate and it disappears quickly so as not to affect your tastebuds for the next course. For best results, serve in small portions in shot glasses. If you can't find salabat powder, fresh ginger boiled in water is great as well.
Ingredients (serves 4)
4 large tomatoes, seeded
3 siling labuyo, seeded
2 tsps salabat powder (powdered ginger drink mix) diluted in ¼ cup of water
4 leaves of fresh basil
1 lemon, quartered
4 tbsps extra virgin olive oil
4 suahe shrimp, steamed
1 tbsp balsamic vinegar
1 tbsp rock salt
Salt and Black pepper to taste
Directions
Season tomatoes and labuyo with olive oil, salt and pepper. Wrap them in aluminum foil and roast in the oven for 25 minutes.
To make the gazpacho, combine tomatoes, labuyo, salabat, basil and balsamic vinegar. Blend and season to taste.
Rub the tops of the shot glasses with the lemon wedges and then rock salt.
Fill up each glass with the gazpacho and top with remaining olive oil.