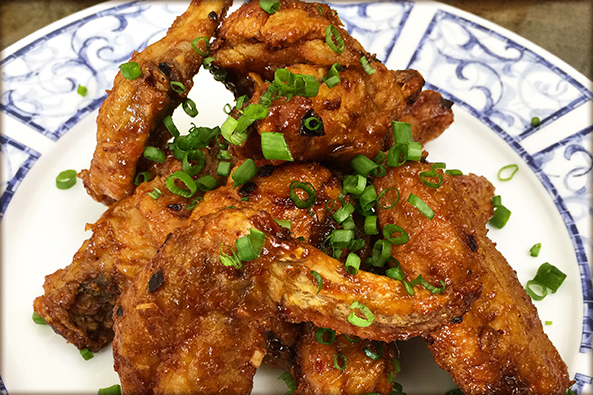 I always love a good fried chicken wing recipe and learning the traditional method of making Asam Laksa and tasting the amazing flavors served as the catalyst for making this dish. I used a lot of the traditional flavors of the laksa and glaze comes of sour, spicy and sweet, a perfect flavor profile for wings. Belachan may be difficult to find, but you can easily substitute with a bagoong.
Ingredients (serves 4)
8 chicken wings, separated into 2 pieces each
1 cup flour
1 tbsp powdered ginger
1 tsp chili powder
1/2 cup tamarind juice or puree
1/4 cup honey
2 stalks lemongrass, chopped
1 tbsp belachan (shrimp paste)
1 tsp chili paste
2 tbsps vegetable oil
oil for deep frying
Directions
In a pot, saute the belachan and lemongrass for 1 minute. Add in the chili paste, honey and tamarind juice. Bring to a simmer and reduce until it becomes a glaze.
In a bowl, toss the flour, powdered ginger, chili powder, salt, pepper and chicken wings. Toss to coat the wings well.
Deep fry the wings until golden brown. In a bowl, toss the wings with some of the glaze. Serve immediately.