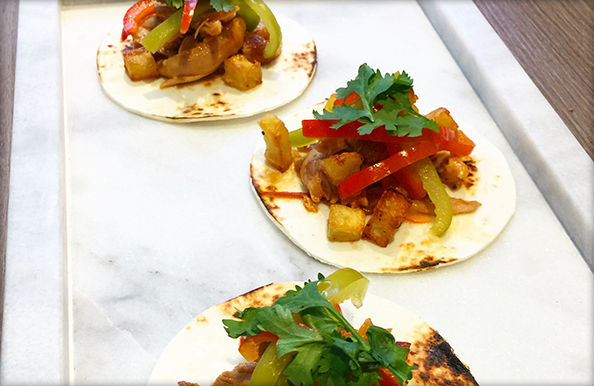 I love Mexican Street Tacos and I find that they are the perfect vessel for a lot of FIlipino food as well. This is a great recipe for entertaining guests at home, and you can even have them build their own tacos for taco night. You can use pork or even fish in place of chicken but cooking times would vary.
Directions:
Ingredients (serves 4)
4 chicken thighs
1 tbsp tomato paste
1 large tomato, chopped
1 tsp thyme
1 bay leaf
1/2 large onion, minced
1 large potato, cut into small cubes
1 red pepper, sliced julienne
1 green pepper, sliced juilienne
1 cup coconut vinegar
1 tbsp salt
3 tbsps sugar
8-12 small fresh tortillas
a few leaves of cilantro
salt and pepper to taste
2 tbsps olive oil
Directions
Combine sugar, 1 tbsp salt and vinegar in a glass bowl. Add in the peppers and let pickle overnight.
In a heavy-bottomed pot, sear chicken thighs seasoned with salt and pepper until brown. Add in tomato paste, tomatoes, onions, thyme and bay leaf. Cook for 1 minute. Add in enough water to barely cover the chicken. Simmer for 30 minutes or until chicken is tender.
Season potato cubes with salt and pepper and olive oil. Bake in a 200 degree C oven for 20 minutes or until brown.
Shred the chicken meat once cooked and let marinate in the cooking liquid until needed.
To assemble the tacos, fill up each tortilla with the chicken meat, the potato and pickled peppers. Top with cilantro leaves.