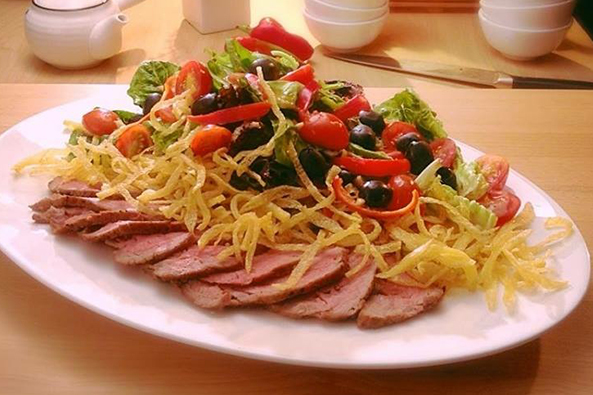 I visited Little Bao in Hong Kong and I was so happy with the Chef May's menu. Like me, she endeavors to serve her local cuisine by adding more modern techniques or quirky combinations to modernize her dishes. Her Lamb Tartar was so good, I wondered if we could do something similar. This is an ode to Chef May and of course, to our own Beef Caldereta. This would be great as a starter to any dinner party meal.
Ingredients (serves 4)
250 g fresh sirloin/tenderloin steak
2 cups mixed greens and arugula
8 cherry tomatoes, sliced in half
60 g black olives, sliced thinly
1 red bell pepper, roasted until tender and then sliced
1 cup fried matchstick potatoes
Dressing:
1 egg yolk
1/2 tsp garlic, chopped
65 ml canola oil
½ tsp bagoong
1 calamansi
Hot sauce, salt, pepper to taste
Directions
Season the beef with salt and pepper.  Sear in a pan with hot oil on all sides, leaving the middle rare.

Combine egg yolks, bagoong and garlic.  Slowly drizzle in canola oil to form a dressing. Finish with the juice of one calamansi.

Slice the beef thinly and arrage in a circular fashion on the plate.  Garnish the beef with the greens, tomatoes, olives and red pepper slices.  Drizzle the dressing on top of the beef.

Top with the matchstick potatoes.