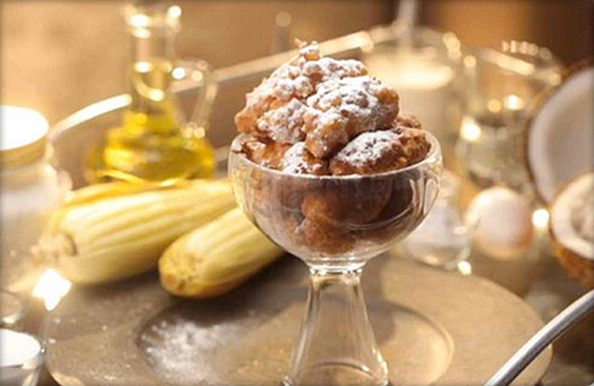 Among the Filipino street food fare, I find that I like Binatog the least, but only because they are so heavy. I realized that the heaviness was actually why it's so important for the Filipino worker because it fills them up for hours. My innovation on the Binatog hopefully fulfills the same quality as a snack that can tide you over on long days.
Ingredients (serves 4)
1/2 cup flour
1/2 tsp baking powder
1/4 tsp salt
1/4 tsp sugar
1/4 cup coconut milk
1 egg
1 tbsp coconut oil
5/8 cup corn kernels (white corn)
1/2 cup grated coconut
Oil for deep frying
Powdered sugar for garnish
Directions
In one bowl, mix together flour, baking powder, salt and sugar. In another bowl, egg, coconut milk and coconut oil. Add wet ingredients to dry.
 Fold in corn and grated coconut. Mix gently.
Fry by the spoonful until golden brown.
Sprinkle w/ powdered sugar.