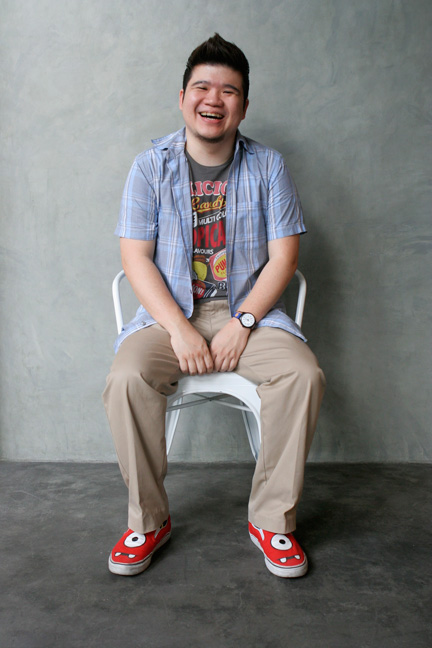 Chef Sharwin Tee is a personal chef,  an instructor and  more notably the winner of the Lifestyle Network's "Clash of the Toque-en Ones" a reality cooking  competition. Now, as the host of his own television show called Curiosity Got the Chef, he whips up traditional Filipino dishes with his own personal twists – elevating home cooking to new and interesting forms.
On July 23, Chef Sharwin will be collaborating with Chef Him Uy de Baron of Nomama to create an all-pig dinner called Beyond the Porkchop: A Nose to Tail Epicurean Adventure.
What is your earliest food memory?
I dont remember what my actual first food memory is but my first food memory where I went, "Awesome!" was when I had steak for the first time.
Who in your life has influenced your cooking the most?
I think my parents affected my cooking greatly. It's funny because neither have probably touched a pot, let alone cook since there were cordless phones but their insistence to try local food wherever we went abroad expanded my palate.
Which book/books has had the biggest impact?
Tony Bourdain's Kitchen Confidential, as with many chefs, had a profound impact on me. I read it right after culinary school and I think it really prepared me for the food business. It set my mind, ego and outlook straight. Another would be Nora Daza's Cooking with Nora. Until now I draw inspiration from it whenever I'm concocting recipes.
What was your first job in the food business?
The first food biz job I got paid for was to be a waiter. I was a pretty good one too, if i may be so bold.
In the process of creating a dish or a menu, what is your philosophy on the plate?
I have two food philosophies. One, I believe in simplicity. My food will barely go over 15 ingredients if I can help it. I feel a duty to bring out the best flavors in the fresh ingredients I use and not cover them with a myriad of complexity. Two, I believe in honoring our fabled Filipino recipes from our ancestors by putting my own take on them. I change textures, forms or cooking techniques but I am conscious to retain the old recipes' dominant flavors.
Which restaurant meal (foreign or local) do you remember the most?
I will never forget my first hawker experience in Malaysia. I still harbor thoughts of going back to Malaysia just to eat Satay and Char Kway Teow. Another meal would be the Lechon Degustation from Pepita's. Goodness. Four kinds of lechon and fourteen courses. That'll stay with me for quite some time.
Say I'm a visitor from out of town, where would you suggest I have breakfast, lunch, afternoon snack, dinner and after dinner drinks and what should I order?
Breakfast – Get a good, low budget silog meal. Maybe Goodah!.
Lunch – Hossein's. Love the kababs, papadum and moutabal.
Snack – Le Ching. Grab some taosi spareribs and 'imperfect' siomai!
Dinner – Gulliver's. Simple roast beef and english sides but always awesome!
Midnight Snack – Aysee. No midnight snack/drinking session is complete without great sisig.
What junk food do you love?
I love salt and vinegar kettle chips and popcorn drizzled with plenty of melted butter.
Is there a food you just can't seem to enjoy?
I know why it's good but I can't enjoy Dinuguan. I dont like sandy textures so I really can't enjoy it.  But believe me, I know it's good.
Just between us, what are your future plans?
Hoping for more seasons with Curiosity got the chef and more travelling for food. Also hoping to head a resto soon.
Curiosity Got the Chef is on every Wednesdays at 9:30 pm on the Lifestyle Network
(Source: http://tableforthreeplease.com/2012/07/chef-sharwin-tee/)