I actually landed in New York earlier than expected (although my landing was one awash with turbulence, fear and discomfort) so I got to go to more places than I thought I would.  Here are my favorites: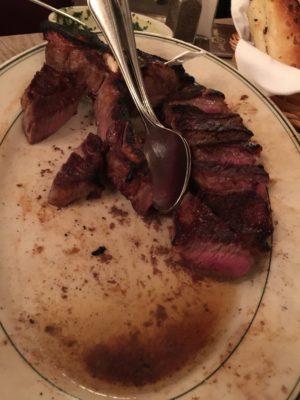 Peter Luger
Look. There are plenty, and I mean plenty, of steakhouses in New York (and Chicago for that matter) but one simply has to do Peter Luger.  I can't explain why, but one just does.  Make sure to order your steak medium or medium rare to get the best possible steak experience and order the Creamed Spinach of course.  One thing though.  Save room for two more things. Their house bacon, which is a grilled bacon slab aka happiness and Schlaag!!! I have to write it this way because it would serve you well to pronounce it that way. It's more awesome than calling it whipped cream (which is basically what it is) and it's served with any of their desserts.  Get the Key Lime Pie. Make sure to do two things too.  Call ahead and reserve (they don't take walk ins) and bring cash.
Website: www.peterluger.com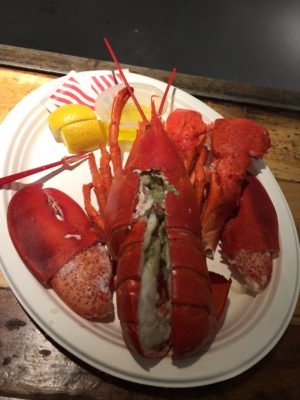 Lobster Place
A visit to Chelsea Market, whether or not you're a foodie, is a must when you're in New York.  When you do visit, a plethora of food choices will come at you.  Try them all, I say! If, however, you're like me and you only have to pick a place or two, the Lobster Place should be one of them.  It's basically a seafood market where you can also eat the seafood you buy.  A lot of the seafood that can be eaten there are cold, like sushi, sashimi and cold cocktail seafood, but make sure to get some steamed lobster! Whole Maine or Canadian Lobsters are available and sizes range from small to jumbo and you can order them with sides or with beer! Lobster roll and soups are also available if you prefer.
Website: http://chelseamarket.com/index.php/Shops/single_shops/the-lobster-place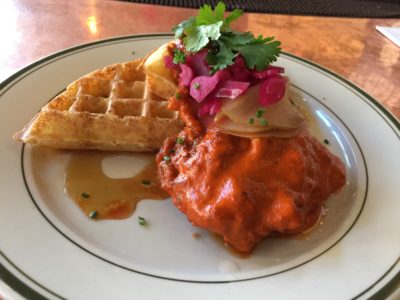 Red Rooster
If you mean to visit the Apolo Theater or you fancy a visit to Harlem, Red Rooster must be a stop as well.  Marcus Samuelsson has created a menu that evokes Southern cuisine but clearly leaves touches of both his Ethiopian heritage and his Swedish upbringing in the food.  Interiors are beautiful and music is great.  As for the food, don't pass up the chance to order the B and B Gravlax. I hate beets and yet I loved the beets in this dish! Also worth trying is the Chicken and Waffles.  Waffles are super airy with a slight crisp and the boneless fried chicken has an interesting spicy sauce and pickles to balance and cut through the richness.  I never got to try the Mac and Cheese and Greens so let me know what I missed. Walk ins are welcome but you'll want to come early or better yet, reserve.
Website: www.redroosterharlem.com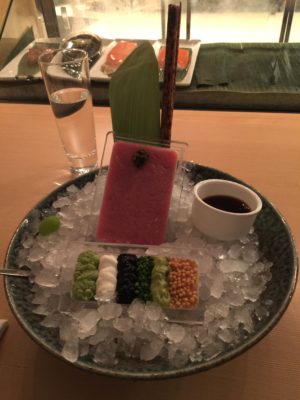 Morimoto
I have always been a fan of Masaharu Morimoto's ability to plate, so a visit to Morimoto New York was a must for me.  I visited the one in Chelsea Market and the interiors are beautiful.  Service was hit or miss.  The Japanese lady scared me, but the other servers were very helpful and polite.  For food, make sure to try the Toro Tartare, which is a classic and the plating is insanely beautiful.  The Chirashi bowl is also a beautiful dish, and very tasty.  Usually I get Chirashi Dons with flavorless rice, but even the rice is seasoned beautifully.  I never got to try any of the cooked dishes, but I rarely get them in a Japanese restaurant with fresh seafood.
Website: www.morimotonyc.com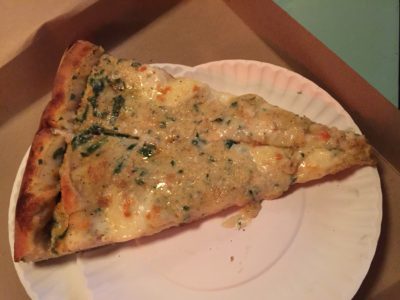 Artichoke Basille
When I was in L.A., my friend Dia insisted I visit Artichoke Basille when I got to New York, even with my professed hesitation on eating both artichokes and meatless pizza, and she made me promise to go.  I kept my word and I'm glad I did! They have about 6-7 flavors including crab, but make sure to grab a slice of the Artichoke Pizza.  The pie has a crisp crust, ample amounts of cheese and a beautiful, flavorful white sauce, almost like a runny bechamel.  Of course, as I enjoyed a delicious slice, a couple of very drunk co-eds wanted to pick a fight with me over the NCAA Men's Basketball Finals.  I really don't think that'll happen to you when you visit, so don't worry.
Website: www.artichokepizza.com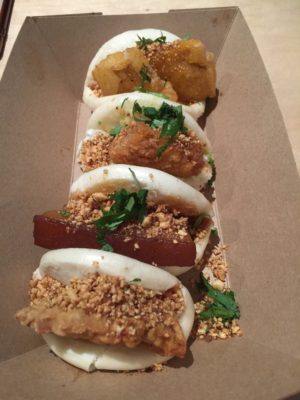 Baohaus
Eddie Huang is probably more known now for the comedy about his life, "Fresh Off the Boat," but his Baohaus is definitely no laughing matter. While pork buns are quite a popular thing with versions flying around, his Chairman Bao is very authentic.  Pork belly is cooked to tender perfection and the skin is just the right soft and chewy texture you would look for if you grew up eating Cua Pao.  Portions are small though so you may want to order 2 or 3 and maybe some fried mantou buns with condensed milk.  Grab an Apple Sidra or a Green Tea to complete the authentic Taiwanese experience.
Website: www.baohausnyc.com