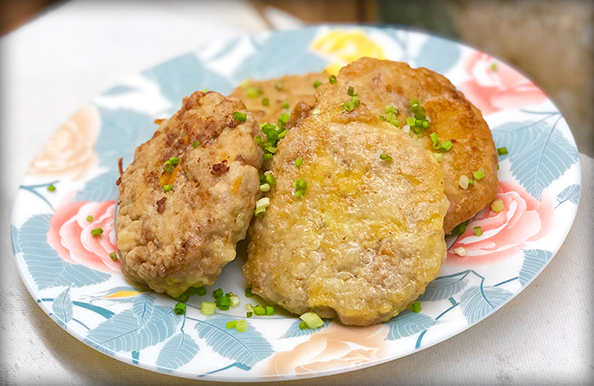 Almost everyone in the world makes meat patties, so it shouldn't surprise anyone that Koreans have a version too. What is surprising, though, is how juicy these patties are with the addition of tofu! You can sub the beef for pork or even chicken, and use whatever vegetables you have in stock. I do have to insist on the tofu, which I think is the star ingredient.
Ingredients (serves 4)
500 g ground beef
1 block silken tofu, about 8 oz
1 smal carrot, grated
1 small onion, minced
4 cloves garlic, minced
4 stalks green onions, minced
1 large egg
1 large egg, beaten
2 tbsps soy sauce
2 tsps sesame oil
1 cup all purpose flour
4-6 tbsps vegetable oil
salt and pepper to taste
Directions
In a bowl, combine the first 6 ingredients plus one egg. Using your hands, crush the tofu and mix thoroughly.
Season meat mixture with soy sauce, sesame oil, salt and pepper. You can test fry a small piece to check seasoning.
Form the meat mixture into patties around the size of a yoyo. You should be able to make 8 patties at least. Dredge each patty in flour and then dip into the beaten egg.
In a pan with the oil over medium heat, fry each side of the patty for about 2-3 minutes or until fully cooked.
Serve with rice or in a sandwich.