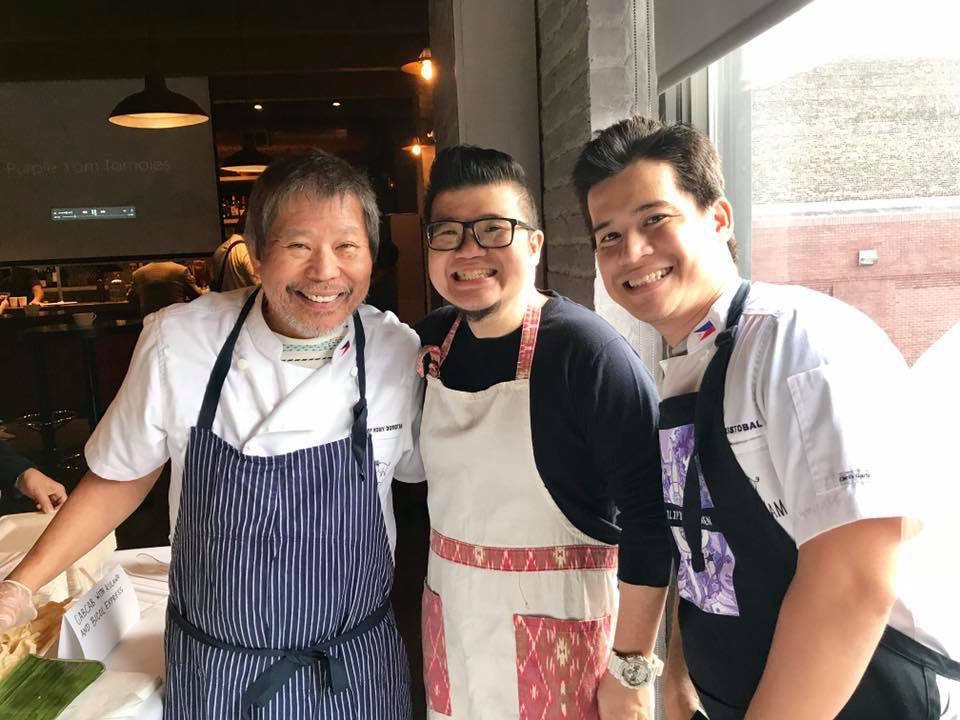 You Don't Say No
After that awesome run at Kultura, I looked forward to cooling my jets a little bit. After all, we had the Guerilla Alliance Night Market in St. Louis in a weeks' time and a collab pop up with Sarap Detroit the week after that. So I spent my Monday relaxing at home and getting my bearings. The awesome ladies of Filipino Kitchen, however, took no breaks and no prisoners as they began preparations to host Purple Yam legends Amy Besa and Romy Dorotan in the Chicago leg of their Hidden Flavors of Philippine Kitchens Tour.
Their dedication to their work awed me and so it didn't take much to get me to agree to help. After all, I won't pass up a chance to work with Amy and Romy, and more importantly, it is always #pinoyssupportingpinoys ! Always.
You Don't Say No, First Blood Part 2
I jokingly commented to Chef Romy that I would be glad to work as his prep cook. Getting into the kitchen though, I knew that indeed, my biggest contribution would be to be an actual prep cook, leaving Chef Romy and his Purple Yam chefs, Rap and Alvin, to concentrate on cooking and flavoring their dishes. I would slice and cut as many fruits and vegetables as they needed.
During the entire kitchen session, I thoroughly enjoyed myself as I got to bond with Chef Rap and find out more about his background. We got to exchange kitchen stories and experiences and I'm always thankful for chances to do this. What I was most thankful for, though, was me being able to pull my hand up in time as my hand slipped on the mandolin. I escaped with a small cut on my pinky, which is waaaay better than well, you know, a missing pinky.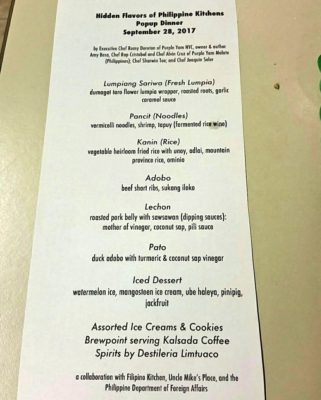 You Say No (When You Can't Believe It)
On their second day hard at work, Chefs Romy, Rap and Alvin were prepping for a media event. I walked in on them as they were finishing. Alvin was wrapping up all the ingredients for transport and Rap was finishing the lumpia wrappers. Chef Romy was also in the kitchen checking on the prep list. After I greet him, he looks up to me and smiles. After a moment, he says, "I want to do something with the pili nuts. You think you can make a sauce out of this? Something sour?"
I was fluxxomed. "Uhm… you mean like a romesco?"
"Yes!" Chef Romy answers excitedly. "Can you do that?"
At this point, I had no idea what to do. I'm not sure what this would be for and I'm not sure what else will be on the buffet table later on.  I start by roasting the pili nuts. Nuts always taste better roasted anyway. Then I fill up the blender with the roasted (skin on) pili, season it with salt, pepper and vinegar. Chef Romy, like a ninja, appears by my side and drops in some chopped jalapeno peppers into the blender. I pour in some honey from Abra to balance it all out, some water and then I blended it. I grab a spoon and taste.
No.
No freakin' way. The sauce tastes like a nuttier, spicier version of a lechon liver sauce, complete with the brown gravy-like color. When I give it to Chef Romy to taste, he smiles and shouts "Yes!" giving me a high five. It is what he had hoped in his mind. We had just created a new sauce for lechon. On the fly.
No way.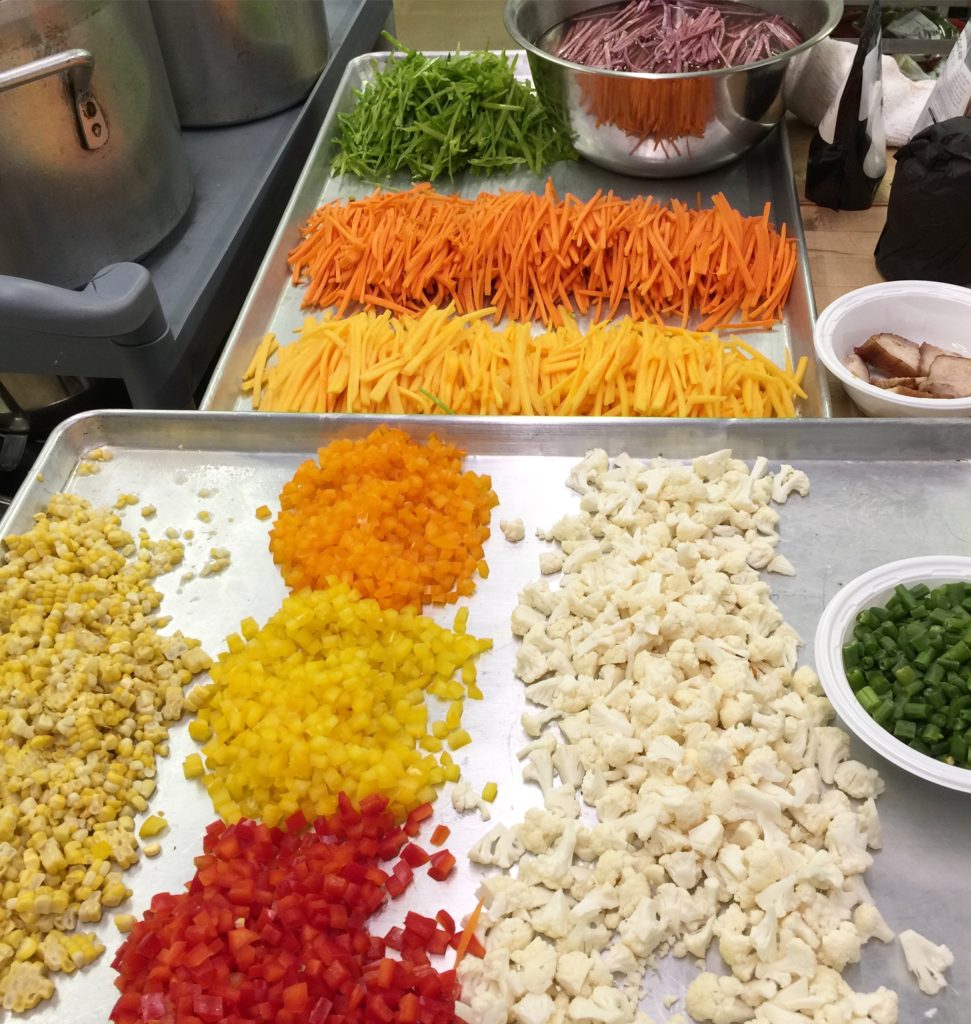 You Say No (When You Can't Believe It) No Blood, Part 2
I'm expediting the food for Amy and Romy's pop up dinner at Uncle Mike's Place in Chicago. Chefs Alvin and Rap are joined by Chef Joaquin of Smalls in Chicago. My checklist is ready. I say to myself that I am physically tired as the dinner is about to begin. I spy Amy in the dining room. She goes around, entertaining the guests and she talks about the dinner and champions the various indigenous Filipino ingredients. She talks of coffee and honey and vinegars, farmers and producers and her passion is overflowing. She has been working non stop for 3 weeks and 3 cities by now, but the energy in her voice is ringing just as strongly.
No.
No freakin' way. I am not tired. I just think I'm tired. If Amy has the energy to talk about ingredients like this, if Chef Romy has the energy and passion to create and to cook wonderful dishes and if the ladies at Filipino Kitchen can run this pop up efficiently just days after running an entire festival (which sold out 2 seatings, by the way) I will have the energy to expedite and run this kitchen. So we do. Cabcab, Pancit, Three Kinds of Lechon with Three Sauces, Fried Heirloom Rice, Iced Dessert and deliciously evil Chocolate Cookies. Amazing food, amazing dinner, amazing experience.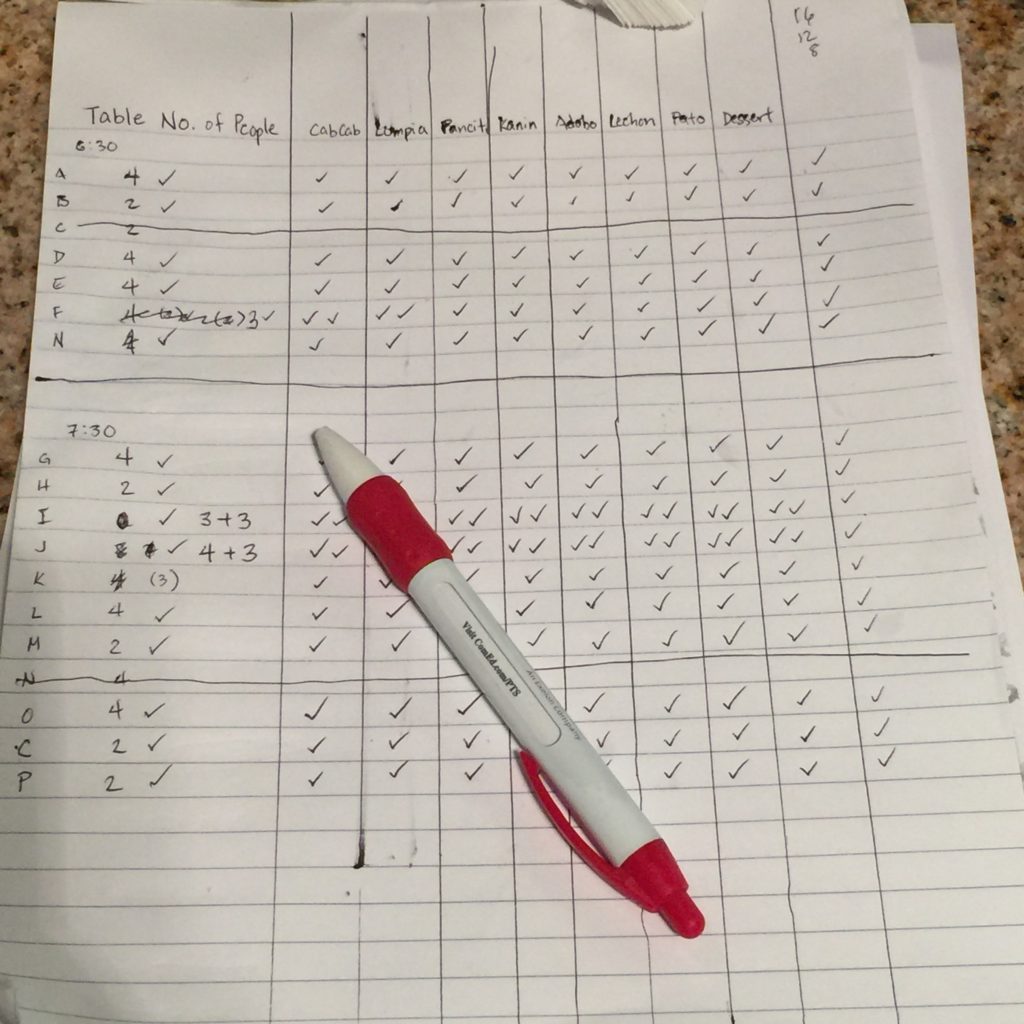 You Say Yes
I am not a particularly young guy. I know that, but I still view the future as a long, murky, undetermined time. What will I do? Who will I be with? Where would I be staying? All questions about the future I have no answer to, except maybe one. Whatever I will be doing, whoever I will be with and wherever I will be, I know what I want to have. I want to have a passion for Filipino food like Amy, Romy and Filipino Kitchen.
Yes.  
Director's Cut Special Features
After a conversation with Chef Joaquin and a day off to rest, I proceeded to buy an immersion circulator. Even the old school guy in me has to admit that it

'

s time to learn sous vide.

In a testament to our abilities, we managed to fit 10 people in a van that

'

s supposed to fit 7, all while Sarahlynn and Natalia giving the rest of the car a tour of Chicago.

We also managed to give Chefs Rap and Alvin of Purple Yam Malate a proper Chicago welcome by giving them a Chicago Dog, dragged through the garden, and shots of Malort. I am not saying what the latter is.