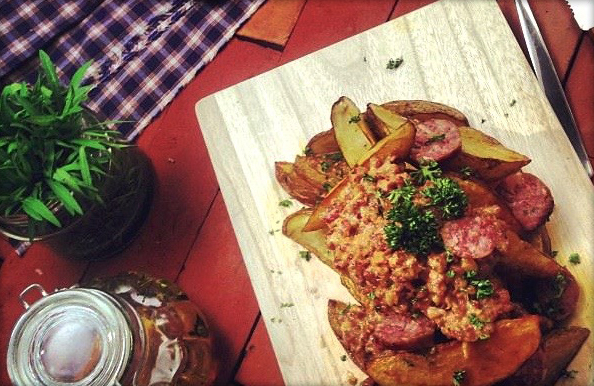 This is one of those meat and potato recipes, perfect for those bad days when you crave some comfort food. It's rich, comforting and very flavorful. You can easily replace the Vigan longganisa with any kind of longganisa but I like the sour and garlic notes. Ground chicken or turkey can be used if you want to lower the cholesterol and calorie count. On the other hand, you can top this with a fried egg to make it even richer.
Ingredients (serves 4)
3 large potatoes
3 tbsps olive oil
1 tbsp paprika
4 links Vigan longganisa
1 tbsp shallots, minced
1 tsp tarragon
2 tbsps white wine
1 cup of water
1/2 cup cream
salt and pepper
parsley for garnish
Directions
Slice the potatoes into wedges and season with salt, pepper, parika and olive oil.  Place in a baking sheet and roast in a 180 degree C oven for 40 minutes.

In a saute pan, cook the longganisa to release the oils. Strain the oil and cook the longganisa further.  Add in shallots and tarragon and cook until fragrant.

Deglaze with white wine and reduce. Add in water and simmer until almost dry.

Add in the cream and shut off the heat.

Turn up the oven to 220 degrees C and cook potatoes for 10 minutes more or until crispy.

Serve potatoes with longganisa cream on top.  Garnish with parsley.