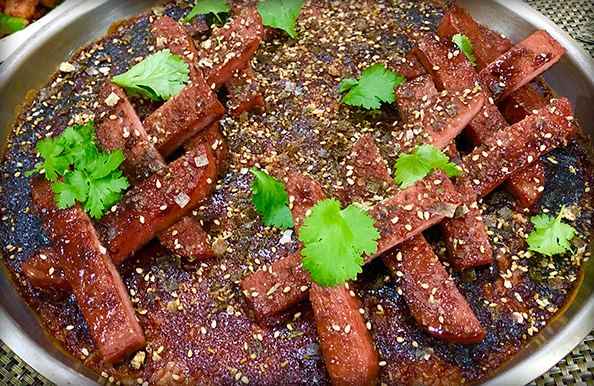 I can't take full credit for this recipe as I'm proud to say watching Chef Roy Choi make one of his signature dishes inspired me to make this. It's rather timely that the whole "sushi bake" thing became a runaway ECQ hit because this recipe is pretty similar to it.
Ingredients (serves 6)
6 cups cooked rice (Japanese rice is preferred but not necessary)
1/2 cup soy sauce (amount depends on taste)
1/3 cup rice vinegar (again depending on taste)
1/4 cup sesame oil
1 cup Japanse mayo
2 tbsps gochujang or hot sauce
1 can of spam, sliced into strips
2 - 3 sheets of nori cut into thin strips or 3 tbsps kakigori
Directions
In a bowl, season the rice with soy sauce, sesame oil and vinegar.
Place the rice mixture into a baking tray or dish. Make sure the top surface is flat.
In another bowl, combine mayo and gochujang. Additional lemon juice may be added if desired. Spread this mixture onto the top of the rice.
Broil/bake the rice until the mayo forms a golden crust.
Meanwhile, fry the spam strips until crisy.
Top the baked rice with the spam and nori strips or kakigori.