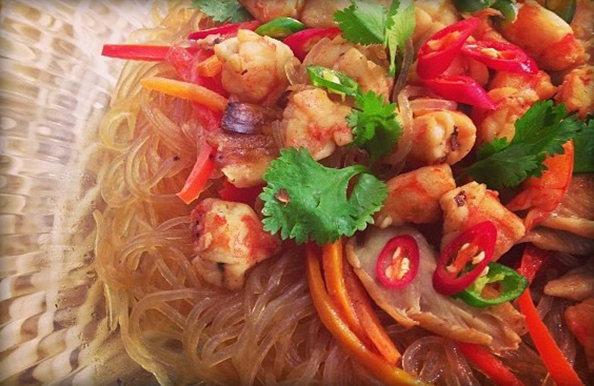 This is my most travelled recipe. What I mean by that is I created this recipe in Dumaguete, redeveloped it in Manila and then cooked it in Moscow! It's a summer version of the sotanghon dish we Filipinos love and once again it is accessible since all ingredients can easily be replaced with whatever you have on hand.
Ingredients (serves 4)
100 g sotanghon
150 g suahe shrimp, shelled
½ large carrot, julienned
12-16 oyster mushrooms, stems removed
1 red pepper, julienned
½ cup coconut "pinakurat" vinegar
¼ cup soy sauce
¼ cup vegetable oil
1 tbsp sugar
6 siling labuyo, sliced thinly
cilantro leaves for garnish
salt, togarashi pepper and pepper
Directions
Pour hot water on the sotanghon noodles to soften them. Drain.
In a saute pan, fry the carrots, shrimps and mushrooms until cooked. Set aside.
In a bowl, combine soy sauce, vinegar, oil, half of the siling labuyo and sugar to make the dressing.
Assemble the salad by combining the noodles, cooked shrimp mixture and the dressing. Toss well. Garnish with cilantro leaves and remaining sili.