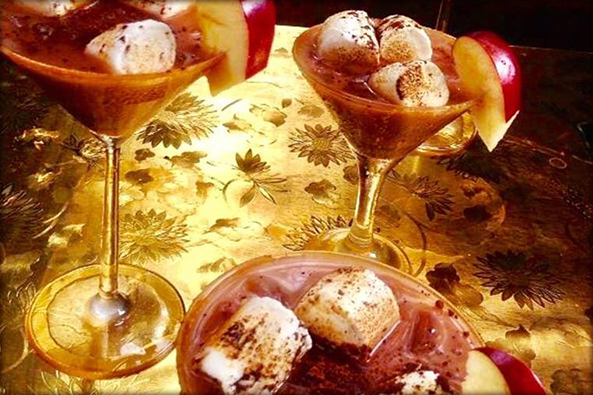 The holidays are the perfect time to drink and let loose a bit and sometimes, the occasion is enhanced when the drink is fun to make too. This cheeky take on the martini is definitely fun to make and drink.
Ingredients (serves 2)
2 tbsps cocoa powder
2 tsps cinammon
1 tsp cayenne pepper
1 tsp ginger powder
2 oz vodka
11/2 cups of fresh whole milk
1/2 cup marshmallows
1/2 cup graham crackers, crushed
honey to coat the rim
Directions
In mixing bowl or cocktail mixer, mix together the cocoa, cinammon, cayenne, ginger powder, vodka and milk.  Shake or mix well.

Add in some ice cubes and shake and mix to cool the drink.

Dip the martini glass rims in some honey and then in the graham crackers.

Pour in the drink into the martini glasses.

Using a blow torch or an oven, toast the marshmallows until golden.  Place the marshmallows onto the drinks.