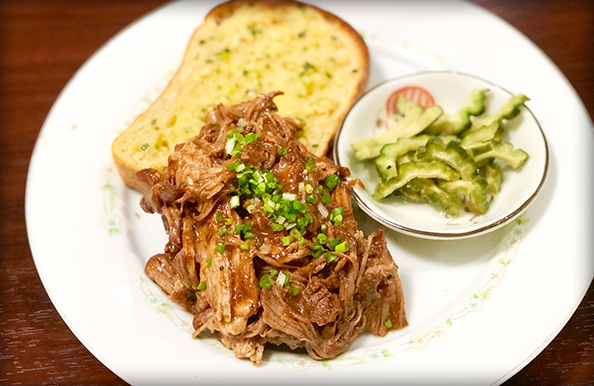 Sometimes, some dishes are borne out of what you can get during a quarantine. This is how this dish was created, and I have to say, I love the versatility of this dish. You can sub the marlin with any meaty fish or even pork or chicken. Kang Kong leaves can be replaced with any leafy green, and the cream can be replaced with canned cream soup. Hardly any excuse not make this dish!
Ingredients (serves 6)
1 kg pork shoulder
1 large onion, sliced thinly
1 bottle beer
salt and black pepper to taste
250 ml barbecue sauce
Spice Rub:
1 tsp thyme, 2 tbsps paprika, 1 tbsp garlic powder, 1 tbsp onion powder, 1 tbsp brown sugar, 1 tbsp cayenne pepper, 2 tsps sage
Directions
Combine all the ingredients of the spice rub and rub generously all over the pork. Season with salt and pepper.
Add the sliced onion and the pork into a slow cooker and pour in the bottle of beer. Cook for 4-5 hours until the pork is tender. If using a regular pot on the stove, simmer the pork until fork tender, adding more beer if the liquid reduces too much.
Once pork is cooked, pull the meat apart with forks to produce threads of meat. Pour in as much barbecue sauce as desired and mix.
Serve with bread and pickles.