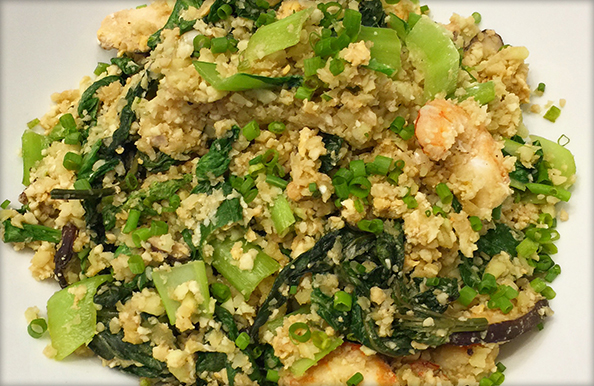 Cauliflower is such a versatile ingredient and it shows with this dish. Cooking them this way does mimic fried rice in a way so you won't miss carbs as much when you are looking to watch your sugar intake. Feel free to use whatever vegetables you can find and the shrimp can be replaced with other kinds of protein too!
Ingredients (serves 2)
3 heads of cauliflower, washed, dried and run through the food processor
4 shitake mushrooms, sliced thinly
4 stalks of bokchoy, chopped
300 g suahe shrimp, cut in half
2 large eggs, beaten
2 cloves garlic, minced
1 cup of kangkong leaves, washed
2 tbsps soy sauce
salt and pepper to taste
2 tbsps olive oil
Directions
In a wok or saute pan, heat up the olive oil and add in the mushrooms, shrimp, bokchoy and garlic. Add in the egg after 1 minute. Stir constantly.
Add in the cauliflower and continue stir frying. Season with soy sauce and black pepper and then add in the kang kong leaves.
Serve immediately.