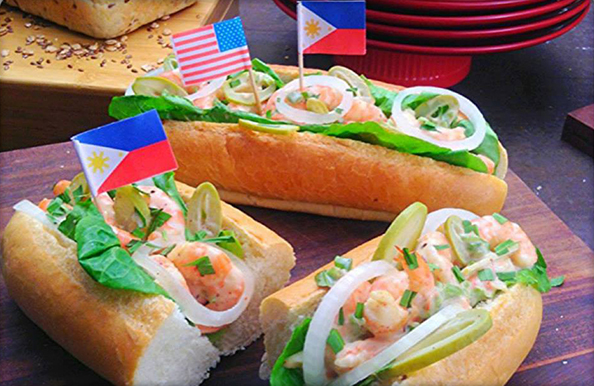 I love lobster rolls but they are so hard to come by here in Manila as they are very expensive. Instead I make my more affordable shrimp alternative. Of course, if you have lobster, be my guest. You can use any kind of pickle if you cannot find pickled pajo mangoes, but try to find a salty, sour kind to complement the sweet pickle relish in the sandwich.
Ingredients (serves 4)
2 hotdog sandwich breads
400 grams shrimp, steamed and shelled
½ cup mayonnaise
2 tablespoons sweet pickle relish
¼ cup green pepper, minced
1 tbsp Dijon mustard
1 tsp togarashi pepper
4 leaves red lolo rosa lettuce
6 pickled pajo mangoes
½ onion sliced into thin rings
1 tsp chopped tarragon
salt and pepper
Directions
In a bowl, combine mayonnaise, pickle relish, green pepper, mustard and togarashi pepper. Season with salt and pepper.
Slice the hotdog bread in the middle halfway to open. Toast them until slightly crunchy. Line them with lettuce leaves and add in the shrimp mixture.
Top with sliced pickled mango and tarragon.