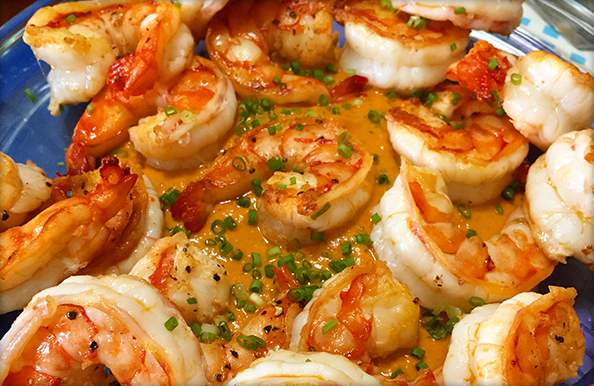 Prawns are a family favorite and I enjoy the challenge of finding different ways to serve them. The pili nuts give the sauce extra creaminess which is perfect for not only prawns but other seafood as well. Feel free to use the sauce on fish, and even chicken. If you can't find pili nuts, roasted cashews or peanuts would work as well.
Ingredients (serves 4)
8 king prawns, shelled and deveined
1 large red bell pepper, cut into four with seeds removed
2 ripe tomatoes, cut into four with seeds removed
1/3 cup roasted pili nuts
1/4 cup fresh basil leaves
1/3 cup olive oil
1/8 water
salt and pepper to taste
Directions
Season red pepper and tomatoes with salt, pepper and 2 tbsps of the olive oil.  Wrap in aluminum foil and roast in 200 degree C oven for 40 minutes.

Transfer the red pepper and tomatoes into a blender.  Add in basil, water, pili nuts and 1 tbsp of olive oil.  Season with salt and pepper and blend until smooth.

In a saute pan, heat up the remaining oil until very hot.  

Season the prawns with salt and pepper and sear o all sides until prawns are fully cooked.  

To serve, pour the sauce over the prawns.