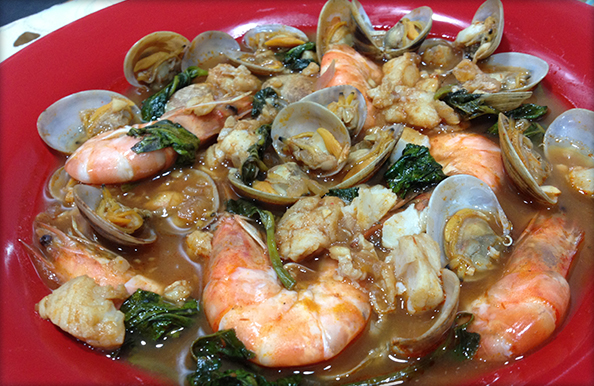 This is actually the first dish I completed on my cooking show! I love this recipe because it's easily replaceable. Sub tamarind with santol, kamias or even calamansi. Replace any of the seafood with whatever is available fresh in the market. You can even sub the kangkong with local greens like alugbati or chili leaves.
Ingredients (serves 4)
5-8 pcs fresh tamarind
1 white onion, minced
4 cloves garlic, minced
2 tomatoes, chopped
1 tbsp tomato paste
800 g clams
600 g fish fillet cut into bite sized pieces
12 medium shrimp
1 cup white wine
2 cups water or fish stock
2 sprigs thyme
1 bay leaf
2 pcs ciabatta or crusty bread
1 cup kang kong or spinach leaves
4 stalks string beans
1 tbsp olive oil
salt and pepper to taste
Directions
Boil tamarind in water 1 cup for 15 minutes or until they burst. Crush tamarind, skin and all into the water, strain and set aside the liquid.
Saute onions, tomatoes and garlic in oil for 2 minutes or until fragrant. Add in clams, pour in white wine and cover.
Let the clams steam and remove clams when they are open.
In the pot, add in tomato paste, water and tamarind water. Season with salt, pepper, and herbs. Simmer for 5 minutes.
Add in fish and shrimp. Add in string beans cut into batons. Simmer for another 5 minutes. Add in kang kong leaves mid way through the 5 minutes.
Add clams back in.
Serve with toasted bread.