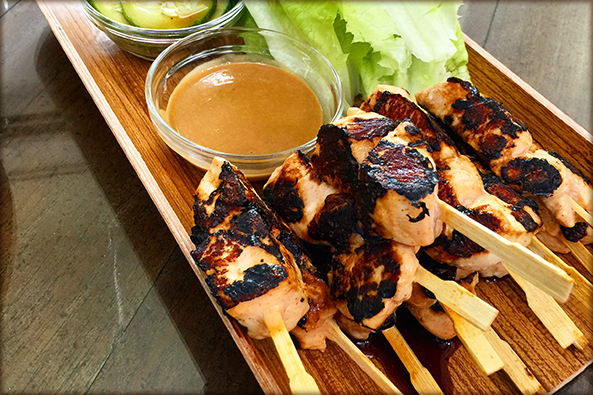 There's Satay almost everywhere in Malaysia when I was there and I love them so much I usually devour 10 to 20 sticks in one sitting. While I love the flavors, I wanted to make my version lighter, a little more fresh and healthful. I think with this version, you get more textures and fresh vegetables to balance the dish out.
Ingredients (serves 4)
400 g chicken breast, cut into cubes
125 ml plain yoghurt
1 tbsp paprika
1 tsp chili powder
1 tsp cumin
1/2 cucumber, seeded and sliced thin
1/4 cup local vinegar
2 tbsp peanut butter
1 tbsp soy sauce
water
1 head romain lettuce
1 cup cooked white rice
2 tbsps vegetable oil
salt and pepper to taste
Directions
Marinate the chicken breast with yoghurt, paprika, chili powder and cumin for 15-30 minutes.
To prepare the dressing, combine the peanut butter, soy sauce, and chili powder. Add enough water to make it into a sauce consistency.
Marinate the cucumber in the vinegar. Season with salt and pepper.
Thread the chicken onto skewers and season with salt. Grill over medium heat until fully cooked.
To serve, fill each lettuce leaf with a little rice, chicken meat, cucumbers and dressing.